On Monday, Deputy Steve Grantham of the Franklin County Sheriff's Department was allegedly denied service at a Rocky Mount Cookout restaurant "because he was a uniform police officer" on duty in his marked police cruiser.
"There has been a lot of discussion on social media the past couple of days in reference to a situation that occurred over the weekend where our deputies were not served at a local fast-food restaurant," the Franklin County Sheriff's Office said in a statement. "The Franklin County Sheriff's Office is aware of the incident and has spoken to the deputies involved. The corporate office of this establishment was contacted, and we are confident that this business will investigate and address the situation appropriately."
Local residents are now boycotting the restaurant after a "viral" post received over 3,000 shares by Facebook users in and around Franklin County.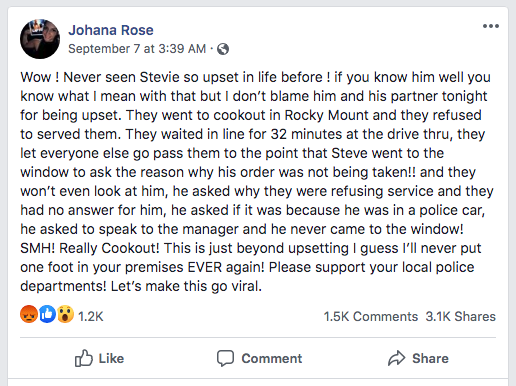 The Cookout restaurant in question denied these allegations, but admitted to firing two employees from the location following the incident.
The restaurant made the following statement:
We would like to sincerely apologize for the unacceptable longer than normal wait times and long lines for our customers. We were understaffed over the Labor Day holiday weekend at our Rocky Mount, VA location and are truly sorry for any inconvenience this may have caused our customers.

After completing an internal investigation into the operations of our Rocky Mount, VA location, and speaking with customers who called into our customer service center. We have found evidence of extremely long wait times and failure to greet our guests within an acceptable amount of time over the holiday weekend. We were understaffed at the Rocky Mount, VA location over the holiday weekend which resulted in unacceptable slow service. Several customers sent us complaints and some even drove off due to these longer than normal wait times and for this we apologize. We have taken immediate appropriate corrective action to address the staffing issues and improve the wait times at the Rocky Mount, VA location.

We are very thankful for the continued support of all of our customers in Rocky Mount, VA. It is our honor to serve first responders and all of our customers. We will continue to provide great service and great quality food for all of our customers.
"In my 26 years as an attorney, I have always known the deputies in the Franklin County Sheriff's Department to be some of the finest men and women in law enforcement, Sen. Bill Stanley (R-20) said. "To refuse to serve one of them merely because of their profession is unacceptable. Deputy Grantham is one of the finest law enforcement officers that we have in Franklin County, and I thank him and his colleagues for their service in keeping our wonderful county safe."
"I am deeply troubled, not just because Cookout refused to serve him, but also because after conducting a so-called 'internal investigation,' the corporate office determined that this intentional act of ignoring this officer, who merely wanted a meal, was due to 'understaffing of the restaurant during a holiday weekend.'"

"That statement, in my opinion, is a blatant falsehood, and the restaurant's excuse is downright ridiculous, in light of the fact that other patrons in its drive thru were served with no issues, while Deputy Grantham and his partner waited patiently for 32 minutes."

"Deputy Grantham was not served because he is a police officer, plain and simple. And because of what we are doing here in the Special Session of the Virginia legislature, demeaning good police officers for a liberal political agenda, this is allowing people like those who working at Cookout that day to act in this way. It is despicable, and it must end. If we continue to allow the erosion of respect for law and order, and permit this kind of behavior towards the men and women who put their lives on the line everyday so that we may live our lives both safe and free to occur, then incidents like this will continue to happen.  I cannot blame any law enforcement officer who believes that their government, and their society, the very things that they are sworn to protect, have let them down.  It is time that the members of our community stand up and fight against this disrespect of law enforcement."

"I call on both the local Cookout Restaurant and its parent company to immediately apologize to Deputy Grantham for their shameful actions on Labor Day. I can tell you that both myself and my family will never patronize this restaurant again."