On April 2, the Gretna Community Vaccine Clinic opened its doors for the first time to serve the surrounding community with Johnson & Johnson vaccines. 
The Danville Pittsylvania Health District, along with Pittsylvania County and other partners in the vaccine team that has been working to vaccinate the region since January, is sponsoring the vaccine clinic at the former Foodland location at 301 North Main Street in Gretna. 
On Friday, the volunteer-run clinic had 800 vaccines to give, with 600 people making appointments beforehand.
Tim Dudley, Staunton River representative on the Pittsylvania County Board of Supervisors, said the county worked hard to secure the location, which was leased from FBGT, LLC for $30,000.
He said this location worked to reach some of the most vulnerable people in the region, especially since the northern part of Pittsylvania County has not yet seen a large-scale clinic. One challenge facing the county is internet accessibility, which is why the county reached out to citizens via post card with a phone number to call to sign up for an appointment.
"In Danville, they had the JCPenney open up so folks could go there, but the northern end didn't have anything," Dudley said. "We saw a location where we could all centrally meet and have the shot for anyone who wanted it in this rural area...This is valuable to our community because some of the folks can't get out to Lynchburg or Danville, and they'll have a closer place to come to."
Dudley said there are still opportunities to spread out to the more rural areas, such as Hurt and Renan.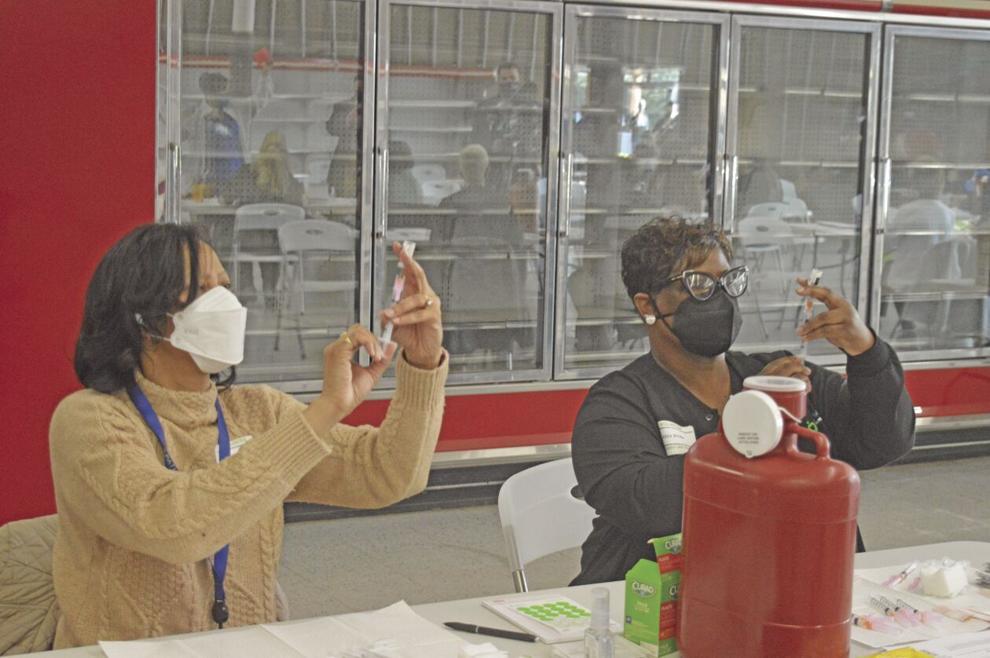 John Kent, chief operations officer at Sovah Health - Danville, said this fit into the health equity push that the vaccine coalition has been working towards since the very beginning. Kent said it's exciting to now have a fixed site further north into Pittsylvania County to be able to reach a whole new population of people.
The addition of Johnson & Johnson has also been a benefit to the communities, as it may be easier or preferable for citizens to do "one and done."
"You get one shot, and you're immunized," Kent said. "We're excited about doing that, particularly for folks that may have a challenge getting in for those second dose shots."
However, there are still some challenges, including the aforementioned lack of internet service and transportation for people to get to the vaccine clinics. Community organizers are still working with citizens to make sure those who need assistance are signing up.
Pittsylvania Danville Health District Director Dr. Scott Spillmann said that the best shots are in arms, no matter which vaccination a person gets. 
Currently, Spillmann said around one-third of people in the Pittsylvania Danville Health District are vaccinated, which is not enough to reach herd immunity with 100,000 people in the district. However, with vaccine at a steady supply and the district now entering into phase two of vaccinations, there are chances for more community members to be vaccinated.
"We still have a lot of places to get to," Spillmann said. "We have a lot of people that want to be vaccinated, and we just want to give them every opportunity."
The Gretna Community Vaccine clinic is a partnership between Sovah Health-Danville, the City of Danville, Pittsylvania County, the CCECC, the Averett University and Danville Community College Schools of Nursing, the NAACP, Pittsylvania-Danville Chamber of Commerce, Danville Regional Foundation and Medical Reserve Corps volunteers.
The next clinic will be held on Friday, April 9, with 800 more doses of the Johnson & Johnson vaccine available by appointment only.
Gretna's clinic will be using registration and scheduling that is separate from the state's portals. Those eligible under Phase 1a, 1b and 1c and in phase two, which includes all individuals age 16 and older, can sign up by calling (434) 432-3582. 
Callers are asked to leave a message with their full name and phone number, and someone will call back to schedule an appointment. The phone line is for messages only and is open 24/7. If a caller gets a busy signal, they should call back later.  
Area residents may also provide their contact information in-person at the following locations: the Pittsylvania County Administration building at 1 Center Street in Chatham; Gretna Town Hall at 107 S. Shelton Street in Gretna; and Hurt Town Hall at 533 Pocket Road in Hurt.