DANVILLE, Va. — On Saturday, graduates of the Danville Church and Community Tutorial Program's CBT Project Graduation were recognized with an appreciation dinner by Tee's Catering at Bibleway Worldwide Church in Danville. Danville Church and Community Tutorial Program is a faith-based nonprofit that aims to connect Danville students with the resources they need to succeed in their academic career and accomplish their goals.
"We develop community centers—we put a computer lab in there, we give them an educational budget, give them educational supplies, provide snacks, and we provide homework and tutorial assistance to kids in our region (Danville, Pittsylvania County and Caswell County)," Founder and Executive Director Kenny Lewis said.
While the Danville Church and Community Tutorial Program has been around for 25 years, the program's CBT Project Graduation began five years ago and is funded by the J.T. – Minnie Maude Charitable Trust and the AT&T Foundation. CBT Project Graduation aims to celebrate those "high school students who give back to the younger students in tutoring their peers," according to Lewis.
"In our program, we celebrate every year our high school students who are going on to college," Lewis said." We call that program CBT Project Graduation, and we just celebrate those kids who volunteer and help tutor and do well [in school] …and then for the seniors who go on to college, we present them with a computer. With the help of AT&T and our One Dream One Team partnership, we give them a scholarship—a $1000 to $1500 scholarship—to go on to college. We just kind of celebrate that with them each year."
This year, nine graduates were recognized for their involvement with the tutorial program and contributions in helping to tutor their peers. Dr. Phillip Campbell, co-pastor at Bibleway Worldwide Church, commended the recipients for their exemplary "attendance," "behavior" and "grades," which Campbell identified as the three necessary components for being a successful student, along with understanding when to choose "deferred gratification: putting something aside to get what you want."
To be accepted into CBT Project Graduation, students must apply for the program with a grade of either "A" or "B" in English and mathematics. Quite often, applicants are already participating at a tutorial site and ready to transition into the role of tutor to give back to their younger peers.
"[My favorite thing is] the maturation," Campbell said. "This is really the payoff, where you can see kids moving forward and becoming college and career-ready. We believe that education is a necessity, not an option."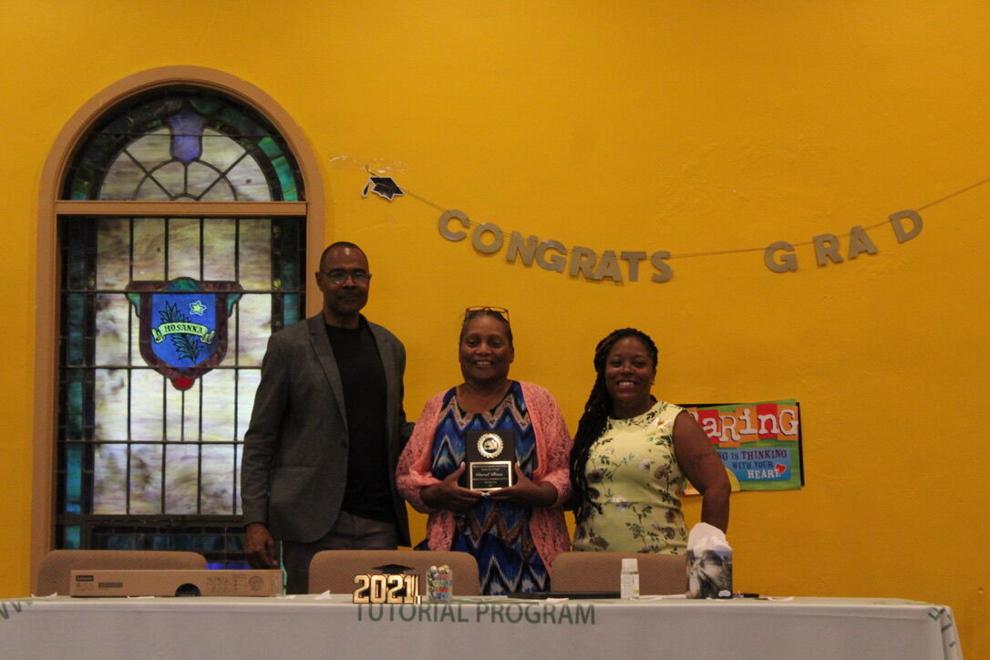 The event featured a presentation by Shelita Hall, a graduate of the Danville Church and Community Tutorial Program who is now pursuing a PhD in Material Science and Engineering with a focus in space medicine at Norfolk State University, where she also obtained her bachelor's degree in Chemistry. Hall graduated in 2016 from Galileo Magnet High School, after sacrificing her hobby of cheerleading at George Washington High School to prioritize her studies. She was invited by Barbara Evans in her junior year to volunteer with DCCT as a tutor.
"I joined the tutorial program, and I was a tutor," Hall said. "I tutored middle schoolers and elementary schoolers, and that prepared me for undergrad because I became a tutor in undergrad as well. It also helped to build mentorship skills; I was a mentor, as well, in my junior year of undergrad, and all those tutoring and mentorship skills led to me doing my PhD. When you're a PhD student, you have to be a TA, a teaching assistant, and all the skills that I gained from initially being a tutor for Danville Church and Community Tutorial Program…really benefitted me in my PhD program."
Hall has worked with the NASA space program in a variety of capacities, including project management, data analysis, budgeting and planning, among others. She currently serves as president of Norfolk State University's Graduate Student Association.
"I had a leg up because you have to build relationships, and I knew how to talk to people and explain things in a way that was understandable," Hall said.
Hall completed her first internship at the NASA Langley Research Center in Hampton, VA, then worked at the NASA Glenn Research Center in Ohio, and she is now working at the NASA Johnson Space Center.
"I work with space radiation in order to protect astronauts during long term spaceflight," Hall said. "When astronauts go to space, they are exposed to a lot of radiation from the sun and from exploding stars, so in order to keep them safe, my job (for my PhD) is to figure out a way to shield astronauts from space radiation and to protect their brains for longer space flight so that they're able to respond in critical situations that can be life or death. Right now, the mission that we're working toward is the Mars mission that will take place in 2026."
After Ms. Hall's presentation, each of the nine graduates were awarded a scholarship and laptop computer, and representative Ronnie Glass awarded an additional scholarship from URW Credit Union. The ceremony concluded with honoring one special volunteer, Carol Ross, with an award for her dedication and service to the Danville Church and Community Tutorial Program.