A half century-long battle in southeast Pittsylvania County is just warming up.
---
RINGGOLD, Va. — Residents of Pittsylvania County's Mountain Hill community are unhappy. They are unhappy with a lot of things: their representation in county government, their perceived subjugation by First Piedmont Corporation and their unanswered pleas to the Department of Environmental Quality. They say the First Piedmont landfill in their backyards has degraded their lives to an unlivable quality—fear, sickness and exasperation dominate their day-to-day. But the landfill has existed in that very location for nearly 50 years, leading officials on the other side to question the timing of the community's latest cry for help.
"Residents of our area have lived with intolerable permeating odor, wind-blown trash and resident vultures for many years," said Mountain Hill resident Adrienne Sheets. "Frequent ongoing appeals to the DEQ, county board of supervisors, First Piedmont management and Ben Davenport himself have been ignored or minimized and rationalized by the responsible parties. No one shows concern or interest in helping to solve our community problems created by the landfill."
Sheets is part of a homegrown special interest group called "Save our Rural Community." Ben Davenport, the founder and chairman of First Piedmont, called the group members "irrational people," but admitted he still takes the community's concerns very seriously.
"We are aggressively trying to abate this. It's the nature of a landfill—it smells. As it ages, it decays," Davenport said. "Frankly, they should appreciate the fact that a company is so community-minded that it wants to really try to do something about this. I've had educated people make accusations that I felt like were not true. Sometimes, it's just as well not to know the truth. It's convenient."
County Administrator David Smitherman said that he was skeptical of the community's recent outcry after nearly 50 years of living with the landfill.
"I find it very peculiar why this is the topic de jour today at this juncture," Smitherman said. "But that's fine. Every time there is a complaint or hint of noncompliance, it is vigorously investigated."
On Monday, June 7, Timothy Chesher began the process of filing candidacy to run to replace incumbent Joe Davis for the Dan River District seat on Pittsylvania County's Board of Supervisors. Save our Rural Community members suggested he had all of their votes locked in already.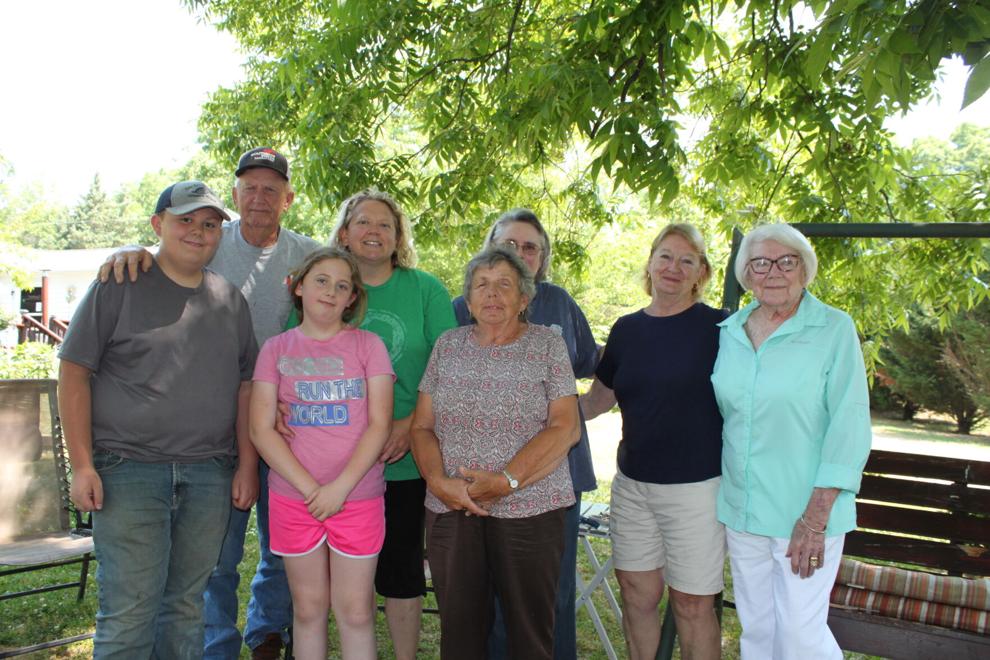 "Timothy Chesher has, as of about 30 minutes ago, filed petition pages to run [for that office]," said County Registrar Kelly Keesee at 1:30 p.m Monday.
Pittsylvania County, First Piedmont, DEQ, Virginia Department of Health and other pertinent entities met with concerned residents for a community forum in January. Since then, tensions have only continued to increase.
"It quickly spun out of control with all the rumors about what we were supposedly doing," said Nick Setliff, First Piedmont's chief operating officer. "I tried to call some of the residents to say, 'Hey, I'd love to meet with you and explain what we're doing.' Nobody ever called me back. There is a lot of misinformation and false stuff. It's frustrating, because there's no actual ongoing discussion. It's just, 'First Piedmont is lying to us about that.' And that's the end of it."
Mountain Hill is a generally low-income community. Mobile homes dot the vista, mantled by a mountain of covered industrial waste. The majority of local residents are either old enough to remember a day before the landfill moved into town back in 1972, or live on inherited family land that predates the landfill. Residents feel trapped with no way to move away from Mountain Hill.
"We were defeated before we ever said the first word. We never had a choice," said Gerri Lamie, local resident. "These days, I can't get out the door. The smell is so sickening."
Save our Rural Community has backing from the Blue Ridge Environmental Defense League, a regional, community-based, non-profit environmental organization that says, "There is simply no such thing as a safe landfill."
"No matter how many barriers, liners and pipes we install to try to mitigate the risk, landfills will always leak toxic chemicals into the soil and water," the organization said in a statement. "A community burdened with a megadump is saddled with the liability forever, with little or no control."
One of the community's primary demands is a fence between the landfill and residential properties. A number of residential plots abut the landfill on Cedar Road, as well as the Evangel Assembly of God Church, which has not held an outdoor event since 2018 due to the odor of the landfill. A treeline separates the landfill from residents' backyards, but homeowners are concerned that animals, children and elderly people could make their way too easily into the facility by accident. The special interest group tapped the fence as a primary concern, but neither the county nor First Piedmont had heard word of it until this year.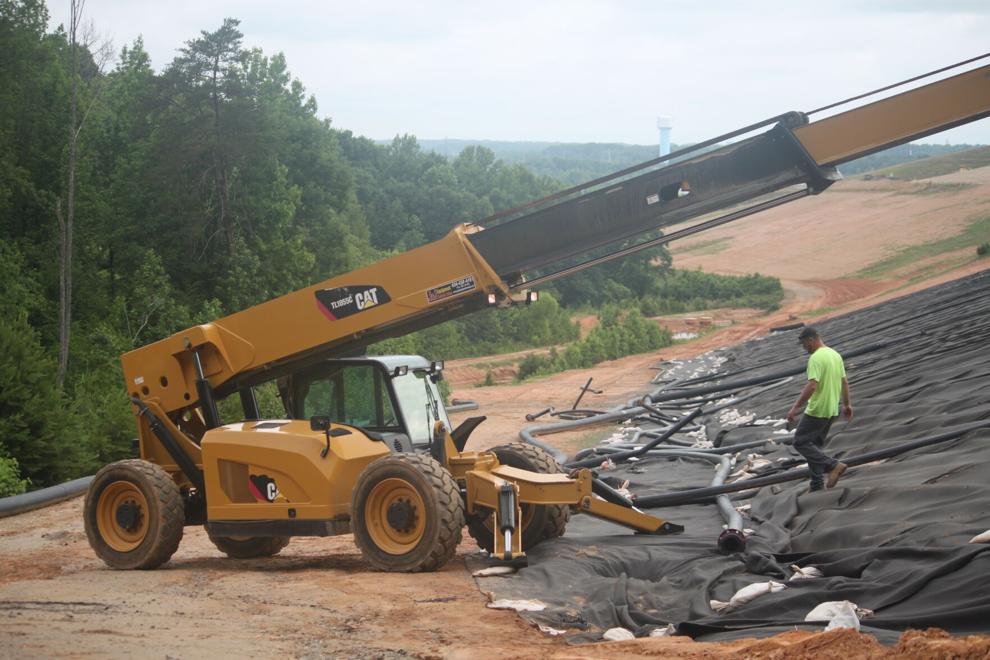 "We looked back over 50 years to see if there had ever been any occurrence of someone accidentally coming onto the landfill, and we came up with nothing," Setliff said. "We think our resources are better spent other places than putting a fence up that's not a real issue and never has been."
Davenport added, "The fence is really miniscule. Frankly, I just don't get it. I think the group would like to be able to say that they got us to do something because they wanted it done. I get that, and it doesn't bother me. As a businessman, I have tried to invest resources that are important to invest in."
 Lamie, whose husband has dementia, said, "It only takes one accident to prove that theory wrong, and then it's too late. It shows how insignificant they think we are."
With a new candidate in Tim Chesher trying to claim the Dan River District slot on the board of supervisors, Mountain Hill residents feel a little more at ease. One of their primary qualms is with their supervisor, Joe Davis.
"Joe Davis treats us like the enemy," said local resident Robin Rosson. "Supervisors are supposed to support the people, not the businesses."
Lamie said, "Our supervisor works for Davenport, not us."
County supervisors do not have regulatory authority over landfills, however, but they do act as a conduit for citizens to get the answers they seek. Despite this, many in Mountain Hill say they feel shut out of the conversation.
"Every time I ask him [Davis] a question, he says, 'I don't know Jerry, let me get back to you,'" said local resident Jerry Martin, who is a member of the Ringgold Fire Department. "He has never gotten back to me. One time I called him, and he went off ballistics on me. My wife heard it all. He said, 'Those women in Mt. Hill are liars. They're stupid. They don't know anything.' I have never been more disrespected in my life than I was then."
The community forum meeting is when many were "really turned off" to Mr. Davis.
"Did he support us in any way? No," said local resident Linda Gauldin, who works in the area as a nurse. "He sat in the corner the whole time and never said a word. No kind of support. They wouldn't talk to us or let us ask any questions. I felt like it was my fault."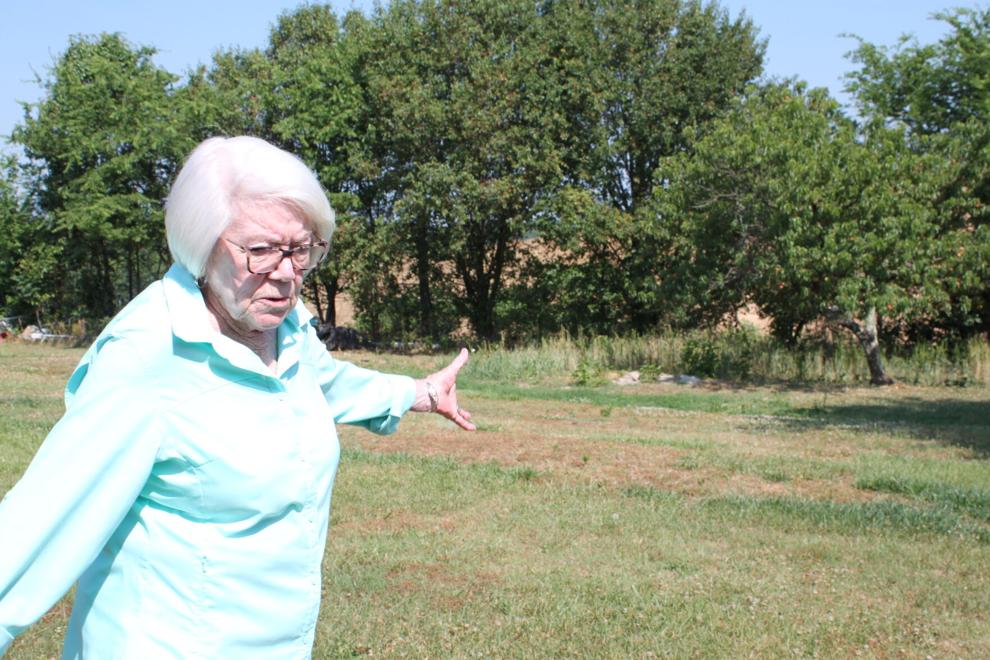 Rosson reflected a similar experience.
"We thought we could at least get some questions answered, but we could not," she said. "It's sad, because all of these houses have been here 70 or more years. They just dumped a landfill right in the middle of this community."
Setliff responded, "They weren't a fan of how the meeting went. It was more educational, and less giving them a platform to voice their concerns. They weren't super into that."
Residents are also upset that Davis "refuses to hear" their concerns on the Save our Rural Community Facebook page.
"We invited Joe to listen to our group," said Julie Owen, Mountain Hill resident. "To this day, he has refused to join. Our own supervisor is unwilling to listen to us. He doesn't want to hear it."
Smitherman said he supports Davis's decision not to join.
"Facebook is probably the worst thing that has happened to local government administration in the last 20 years. I think it is the worst thing to happen to civilized society in my lifetime," Smitherman said. "I think the troubles we have locally, state and nationally all have a common denominator that is social media, which gives voice to the misinformed and provides credibility to false information. I find it a necessary evil to communicate outwardly as a government, but I do not consider Facebook a relevant source of information. I find it exactly what it is, which is a social network, not an educational network."
Smitherman estimated less than 10 percent of the county's 62,000 residents are on Facebook.
"As the county administrator, I'm not going to join these social media groups," he said. "I don't find them to be a productive form of fact-finding and official communication."
Davis said he is empathetic toward the Mountain Hill community and assures the public he has never intended to work against them.
"I have heard and understand the concerns from the Mountain Hill community regarding the First Piedmont landfill and am empathetic to their cause," Davis said. "Regardless, the Board of Supervisors has no regulatory authority to mitigate the matter."
One rumor circulating the Save our Rural Community group is the designation of the First Piedmont landfill in Ringgold. Group members have routinely referred to the landfill as a municipal household trash site, although in reality, it is classified as an industrial waste facility. They complain that the landfill is not capped off and covered daily and that street sweeping does not occur daily, although these measures are not required of an industrial landfill by law. First Piedmont says it is going above and beyond the legal requirements.
One of these auxiliary efforts is a new odor machine. The machine is not required by the DEQ, but was installed by First Piedmont in an effort to ameliorate community relations, Davenport said. The machine, erected in October 2020, uses a catalyst to convert hydrogen sulfide (H2S) into sulfur and runs eight to ten hours per day. Setliff estimated the sulfur output accounts for at least 80 percent of the unpleasant smell permeating the Mountain Hill neighborhood.
High levels of H2S can irreversibly poison the human brain. Low levels of H2S can cause headache, nausea, eye irritation and throat irritation. Chronic exposure to low levels of hydrogen sulfide can lead to deficits in balance and reaction time, dizziness, insomnia and overpowering fatigue. Local residents cited fear of the unknown in light of these facts.
"What I'm concerned about is what we are breathing in the air and drinking in the water," said Gauldin. "I haven't drank tap water in ten years. I'm terrified. Nine out of 10 people in Mountain Hill only drink bottled water."
Martin shared the concerns of Gauldin.
"It's not only the odor, which is terrible," he said. "I'm worried about my health, my water."
The term "hazardous" is used by the group frequently, although as First Piedmont CEO Tommy Stump pointed out, the closest hazardous waste landfill is in Yukon, Pennsylvania.
"Looking at their 'Save our Rural Community' Facebook page, some of the stuff they come up with—I wonder myself where it came from," Setliff said. "I know the term 'hazardous' is thrown around a lot. Unless it's just someone there that Google searched 'landfills' and saw that some landfills do take municipal solid waste and then put two and two together and said, 'That must be what First Piedmont is doing,' I'm not really sure where that information must have come form."
Another concern neighbors have is the number of fires that have combusted within the landfill. Residents cite general terror and fear of smoke inhalation. According to the Ringgold Fire Department, the landfill at one point saw 17 fires in three years.
"The heat was so intense, it's no telling how many tons of garbage burned into the atmosphere," said Martin of a 2018 fire than necessitated one million gallons of water to extinguish. "When we got the fire out, what did they do? Start filling it back up."
"The flames were so high, it was horrible," added Lamie.
In response to complaints against Supervisor Davis, Smitherman said that above all else, he wants the residents of southeast Pittsylvania County, as well as the county at large, to understand the function of county government.
"We get complaints about things all the time that are just completely out of our preview," Smitherman said. "It just reminds me of Civics 101, to understand the branches of government and the responsibilities, roles and duties of every piece of government as well as our citizens. One of the roles of citizens is to understand how government works, and I think we have a misunderstanding in that regard."
Pittsylvania County has no control over flight paths or landfills. The county government is solely tasked with handling land use, Smitherman said. The land-use regulations were enacted 20 years after this landfill was established.
"We have no control over the flight path that goes over my house from New York City to Atlanta. I have no control over the U.S. Navy flying bombing missions over the Smith Mountain Dam. Some people don't like that," Smitherman said. "Similarly, we have no control over the State of Virginia and its regulation of landfills. Period. It is not a regulatory role of local government."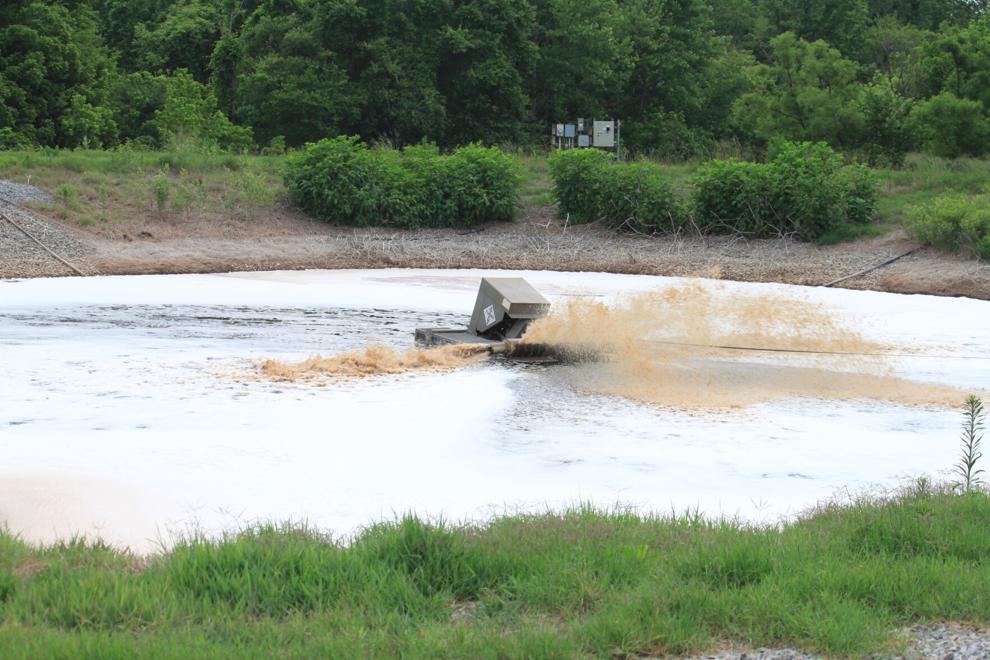 Still, the board of supervisors routinely listens to citizens' concerns in their mission to be a conduit to find answers to citizens' concerns.
"It was very clear by listening to VDH, DEQ and the others, to anyone who was paying attention, that this was squarely a commonwealth of Virginia regulatory authority. It was also exceedingly clear that the landfill was in compliance with all relevant regulations," Smitherman said. "It was also exceedingly clear that the DEQ is very well aware of the complaints of this are regarding noise or smell or debris on the road. It was obvious to me that they checked on every single one of those complaints."
In response to residents' claims that the DEQ has not investigated any of their complaints, Davenport noted, "They investigate any complaint that's there—any. I don't care how far-fetched it may be. They investigate. It's like having the police department that just looks at landfills. They have a whole department that does nothing but that. To say that they don't have a voice—it's simply not true."
Another concern frequently broached by Mountain Hill residents is the belief that leachate water, which is water that has come into contact with solid waste, is used to dust the roads.
"The leachate holding lagoon water is all pumped directly to the Danville city wastewater treatment plant," Setliff said. "Pond water is used for dust control, not leachate water. It doesn't even make sense why we would do that."
Residents also frequently confuse the stormwater basins for leachate ponds, Setliff said.
As far as the odor is concerned, First Piedmont claims to be understanding. Davenport said he is investing tens of thousands in odor control technology that is not mandated by DEQ.
"This is cutting-edge, new technology. We feel like that is paramount," Davenport said. "That's the thing that's offensive to the citizens, and I understand that. It is somewhat the nature of a landfill, that it can't be without some odor, but we'd like to control all the odor that we possibly can. We are talking about tens of thousands of dollars we're spending on that."
Smitherman said he is grateful to First Piedmont for its efforts in this area.
"Being a good neighbor is a two-way street," Smitherman said. "They are earnestly attempting to be that good neighbor, and I think that they should be recognized for that effort."
Smitherman said he will never cease to receive citizens' complaints, no matter if he's heard them before or not.
"The county has absolutely no authority over landfills. There is nothing more than we can do about that," he said. "We can continue to listen to the concerns of that community, we can continue to provide access to the folks who can provide solid answers to this community that is feeling unrecognized in this process, but there is no regulatory authority in Pittsylvania County to act on any of the things they are complaining about."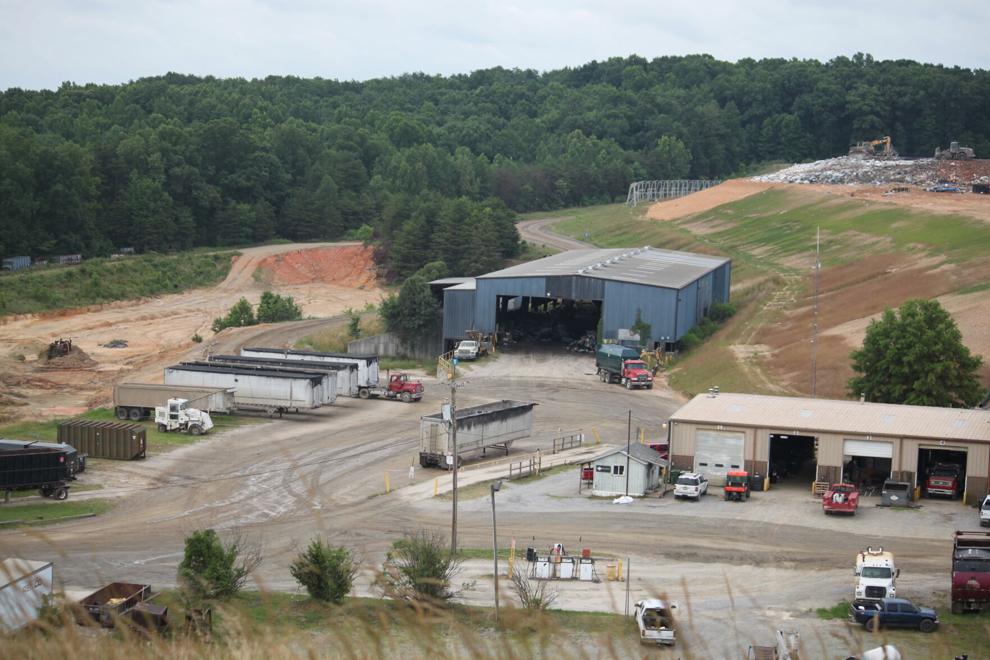 Smitherman said his tactic is to speak the truth and support with facts. He said he deals with misinformation on a daily basis.
"It's interesting how much people believe they understand, until they find out what the truth is," Smitherman said. "The folks in the community that want to learn, that want to understand and want to be productive, appreciate how we handle those type calls of alarm. You cannot make up a situation to suit your fancy. It must be in concert with reality, and the reality in this case is that the County of Pittsylvania is not a regulatory authority over landfills in Virginia."
Save our Rural Community still feels county administration could and should be doing more.
Of the county's response to their concerns, Sheets said, "This is all a prime example of their incompetence. They are absolutely not qualified for the jobs they have."
Davis said he has encouraged First Piedmont to do better, but is satisfied with its current arrangement.
"Despite the fact that First Piedmont has remained in compliance with its permits and the guidelines of all regulating agencies and has consistently gone above and beyond to work with the surrounding community, I have encouraged them to continue finding ways to be an even better neighbor. As a result, First Piedmont has invested tens of thousands of dollars in state-of-the art technology aimed at reducing the odors that come out of the landfill," Davis said. "I am thankful that First Piedmont has taken these steps, which aren't required of them, to be an excellent neighbor for the Mountain Hill community and all of Pittsylvania County."
Davenport maintains the accusations made by residents of Mountain Hill are nothing more than rumors.
"We have spent a lifetime as a company making this county the best place to live," Davenport said. "We want to do everything in our power to make that happen."