CALLANDS, Va. — After two years of work, the Callands community celebrated the restoration and relocation of their historic post office.
The office was built in 1885 and was in operation until 1970. The building was originally at the intersection of Highway 57 and Highway 41 before it was moved to Sago Road last year. The old post office now sits with Callands historic Callands Clerks Office and courthouse, both built in the early 1770s.
It's taken some time to finish restoration of the old post office. "It's been two years. We were moving along pretty good, but then it rained and rained and rained. Then the pandemic came," said Dale Aaron, president of the Old Callands Post Office Restoration Group. "We didn't do anything during the pandemic. We just quit totally until it was safe to at least be outside at a safe distance. Virginia had pretty strict rules and we tried to abide by those. So, we just had to shut down. We would have been done well over a year ago if we didn't have the pandemic." 
The restoration of the old Callands Post Office has been a labor of love and only achieved with the blood, sweat and tears of the community members and business partners that contributed to its success. This effort has not gone unnoticed, said Callands resident David Hayden.
"I'm proud of it. I didn't drive a nail on it, because I can't…But, I'm really really, really proud of what they've done," said Hayden.
Community members share fond memories of the post office. "I remember going over there with mama to the post office," said Callands resident Donna Martin. "If mama needed stamps, she would put a note in the box and say I need 20 stamps and leave the amount of money in there for the postmaster. And they'd leave the stamps and take the money… It worked out pretty good."  
Before the office's restoration efforts, the building was completely covered up. "The post office was so overgrown you could barely see it," resident Tony Hayden said.
"It was surrounded by trees and vines growing on it," said Neil Martine, vice president of the old Callands Post Office Restoration Group. 
While outsiders may have passed the post office without knowing it, natives of Callands were well aware of its presence – the building was never lost to those who live in Callands. Aaron, a Callands native, noted this as well as the initial difficulty in finding ways to begin restoration of the building.
"Most of us grew up in that area so we knew where it was. The problem was getting permission to work on it. Some people had tried before, but were not successful. We were and it was a blessing," Aaron said. 
Aaron may have made monumental strides to with the project, but he gave great credit to Sandra Reynolds. 
"Sandra Reynolds, who is the treasurer of our 501(c)(3), she had been interested in trying to restore it for several years, but just hadn't been able to get it moving," Aaron said. "She was the one that was actually instrumental in wanting to get it restored."
Apart from Aaron and Reynolds, the building's restoration was really a local community endeavor.
"A group of local people got together and said, 'Let's do this,'" Aaron said. "We got together and decided we'd form a 501. I did that and had a lawyer in Danville do that for me. Then we were off and running trying to raise money and supplies and materials and looking for free labor and it showed up."
Former Postmaster Joan Nuckols held all the necessary historical information for the old post office.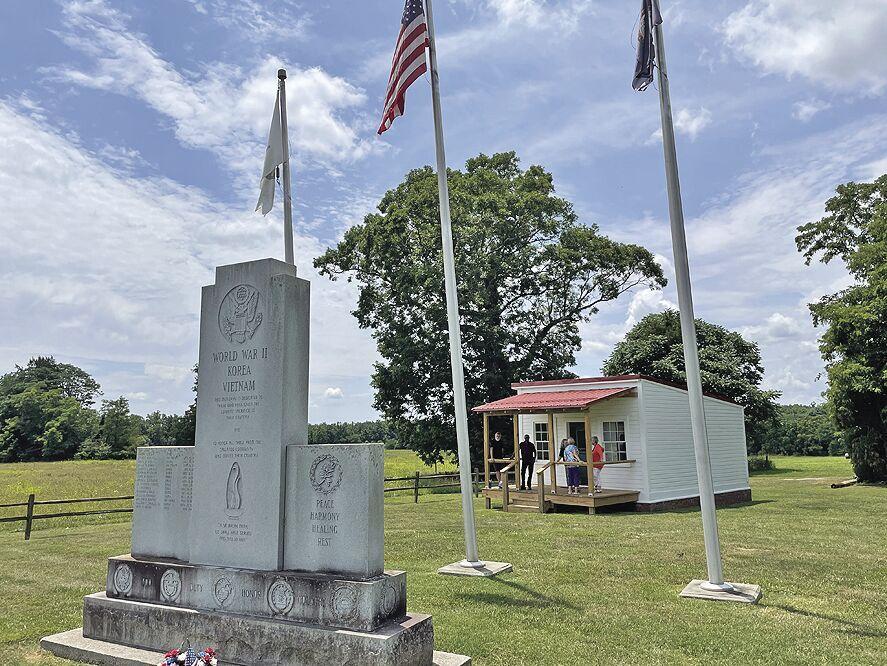 "We were very fortunate that prior to us getting into this project, Amos, who was a post master there, had written to Washington and got all the materials he could for the postal archives on that building," Aaron said. "It was a tremendous amount of information and Joan Nuckols actually had that information. It made things a lot easier we already had historical information according to the U.S. government."
Aaron himself played a practical role for restoring the old Callands Post Office.
"My role, pretty much, was just line up the materials and make sure they were there. But there were times where, oh boy, money is short and all of a sudden money would come through," Aaron said.
Roger Jefferson owned the land that the old post office was on as well as the post office itself. Jefferson did not wish to keep the building on his land.
"I called the owner. He graciously gave it to us and said, 'have fun.' It was a disaster at that time. But he gave us permission and actually gave us that building," Aaron said. "We wanted to leave it where it was, but Mr. Jefferson preferred if we would move it. That was in the plan the entire time… After much consideration, the three original post offices are now right there on that location of Sago road." And with the help of Davenport Energy, the old post office was able to be moved where it is today.  
With legal and historical prerequisites taken care of, Aaron and his team held an open workday to start on clearing the building of foliage.
"It was eight or 10 people, maybe, for a couple of days cutting trees and bushes and brush away and went from there," Aaron said.
When everything was cleared away from the building, those working on the post office saw more clearly the project facing them.
"It's kind of like eating an elephant. It was one little bite at a time, because it was so much to do. It was almost overwhelming when we really got it exposed to see what needed to be done," said Aaron. 
Looking into the building, Aaron mentioned signs of a break-in. "Somebody, I guess vandalism or whatever, broke the windows out and actually tore the boards out that were on the back," said Aaron. The main coal stove was also taken and there were marks in the floor where someone had tried to take the original safe, but it seems that it was too heavy for that person to take.
"People will take anything that's not nailed down," Aaron continued. 
After inspecting the building further, there were some workable structural issues.
"Luckily for the building, the sides and the front was pretty much intact. We had to a lot of work. The back was the biggest area. We did replace a significant amount of boards, but again, they were from the same time period," Aaron said. "It's significantly old in comparison of most buildings today." 
Because the post office is such an old building, modern lumber cuts didn't always fit. Those restoring the building had help from a collector with local connections.
"Tom Ragsdale, he lived in Halifax county, but since passed away and had a house in the area of Callands. He collected many old buildings that were torn down. He gave us a lot of those boards from the same era that fit. It would be hard to find them otherwise," Aaron said. 
Unfortunately, the old post office's porch was unable to be restored with its original material. Aaron decided to attempt to recreate the porch rather than lose it all together.
"The older [porch] was shot. It was built in 1885. We had a picture from 1943, I believe it was of the postmaster standing on the porch with a couple of ladies, talking. From that we tried to put the porch back to how it was originally," Aaron said. 
Now with the project complete, those who wish to discover a well-preserved part of history will be able to thanks to the work of the Callands community.
"We're thankful for the cooperation and for the people that donated so much time and gifted us with so much money and materials," Aaron said.