Danville Police Chief Scott C. Booth today received the Radford University Center for Police Practice, Policy and Research's 2020 Excellence in Policing award.
The annual award is given to a current sworn police officer, supervisor, commander or executive who is a leader in his or her agency and has been a champion for implementing innovative strategies that bring about change and improve policing.
The award is given from Radford University in Virginia's New River Valley, but is not always awarded locally. Last year's recipient works with state police in Delaware.
The award was presented this afternoon at the Danville municipal building by co-directors of the Radford University Center for Police Practice, Drs. Roberto and Rachel Santos, faculty in the department of criminal justice at the university.
"The reason why Chief Booth is getting this award is that he is creating change in the police organization and partnering with the community at the same time," Roberto Santos said this afternoon. "Danville Police Department, through his leadership, has been able to bridge the two together, where you can sustain crime reduction to make the community feel safer, and at the same time build a relationship with the community. That's why the chief is getting this award."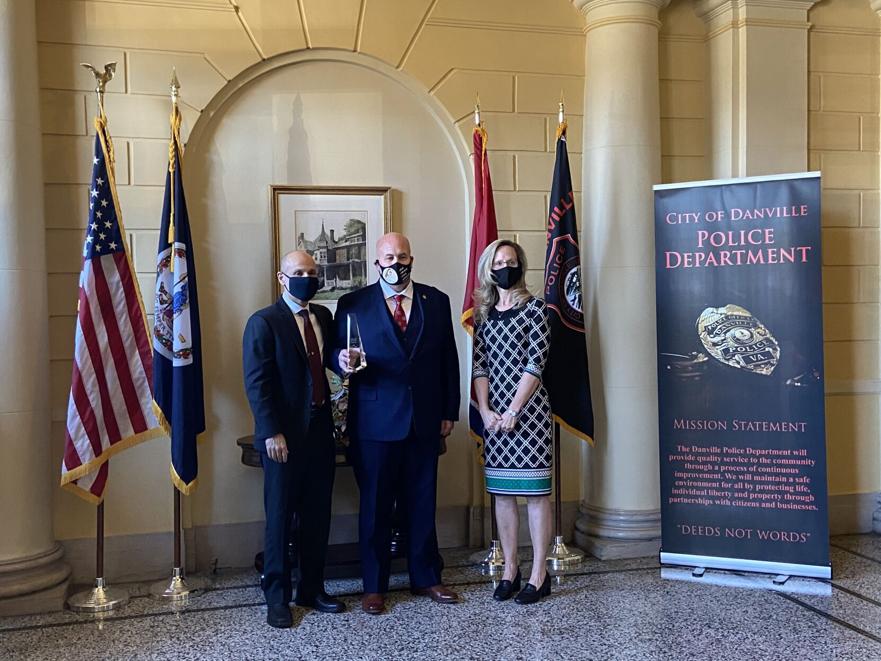 Booth has served as chief of police in Danville for less than three years, but his work in the department has gone far from unnoticed.
"The work he's doing is an example for other police agencies to follow," Santos said.
Booth said he was humbled to receive the award.
"I remember when I first came here, I was like, 'There is so much potential in that city, and specifically in that department,'" Booth said.
Booth left policing but couldn't stay away from Danville.
"Danville really drew me back in," he said. "It had a community that was hungry for community policing and a better way to do things. It had supportive city leadership that wanted things to get better, and told me on day one, before I even worked here, 'We want this to be a premier place to live, work and play, and we want you to help us get there.'"
Under Booth's leadership, the Danville Police Department has implemented a stratified policing approach to reduce one of the highest violent crime rates in Virginia. The city of Danville has seen significant reductions in both property and violent crime rates, according to a statement by Radford University.
Booth credits implementing proactive crime reduction along with systematic community engagement activities for the decline in crime, while at the same time improving the department's relationship with Danville's citizens.
"The department was hungry to get better," Booth said at the award ceremony. "It was already a professional department that was open to new ideas, and they were open to new ways of doing things. Since we've been here together, I think we've done some really good things, and we have a lot more to do."