"I choose to believe."
---
PITTSYLVANIA Co., Va. — With the Pentagon poised to release its UFO report to a congressional intelligence committee by June 25, Pittsylvania County residents are waiting with bated breath to pilot the veracity of decades of previously inexplicable personal testimonials.
"It was 25 years ago, but I'll never forget it," said Lisa Jones, who lived in Dry Fork in the 1990s. "When something like that happens, it's not something that ever leaves your brain."
Jones now resides in Virginia Beach, but recalled that night in the woods off of Route 41 in Pittsylvania County with perfect clarity.
"There used to be an old farm out there on 41 where you could go out and sit and drink beers when you're not supposed to," Jones said. "I was sitting out there with my boyfriend when we heard a noise, but didn't think much of it."
Jones said an unidentified aircraft hovered above her for two to three minutes—some of the longest minutes she can recall in her life.
"We looked up and all of a sudden this thing came zooming over us," she said. "Then it came back and hovered above us. It looked like it was scoping us out."
Why is the Pentagon releasing a UFO report? Technically, it is a UAP report: unidentified aerial phenomena. This language was reworked at the federal level to encompass technical glitches in radar and video technology as well as tangible objects careening through the sky. Years prior to the long-anticipated Pentagon UFO report, former Senate Majority Leader Harry Reid, a Democratic senator from Nevada, helped to endow a $22 million UFO program that ran from 2007 to 2012.
With regard to this week's UFO report, Danville author and prominent UFO researcher Barry Koplen told the Star-Tribune, "They should have called me."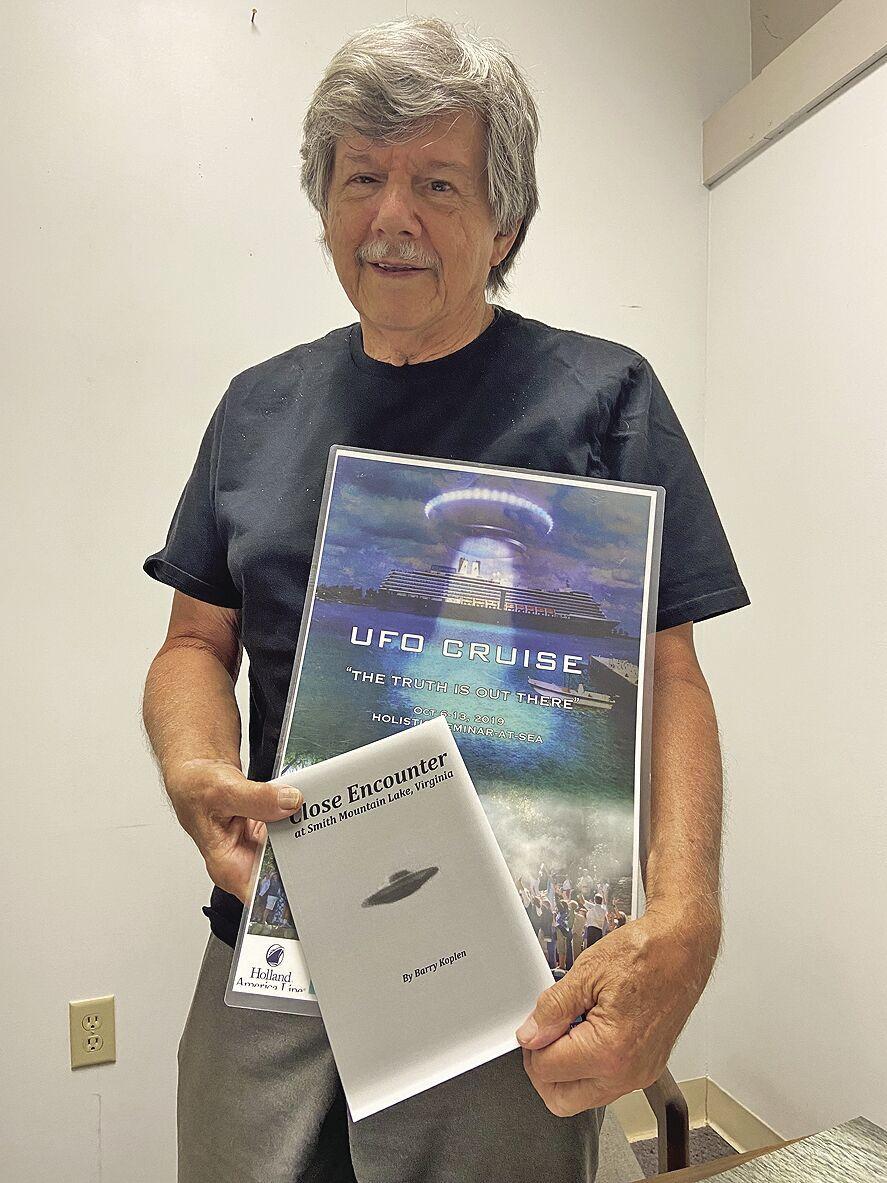 Since having an intimate UFO encounter at Smith Mountain Lake in the 1970s, Koplen has authored two memoirs on the subject: Why Won't They Believe Me? and Close Encounter at Smith Mountain Lake, Virginia.
"My encounter was a very close encounter," Koplen said. "The craft first appeared to me as a red dot in the sky. It was too distant to be the lights of Roanoke across the lake, but it was too low to be a star."
Koplen's books, in which he details this exact experience, are available for sale on Amazon and have also been purchased by the International UFO Museum and Research Center in Roswell, New Mexico.
"I kept looking at it, hoping to understand it," Koplen said. "At first, I was terrified. I had never seen a flying saucer before. And then, I was amazed by it. That was a real flying saucer."
Koplen estimates the aircraft was about 80 feet in the air and 200 feet away from the balcony of the lakeside cottage where he was staying with two friends. It hovered over him for a period of four or five minutes.
"What I saw was fascinating and almost inexplicable," Koplen said. "I saw bright red light that was streaming through the window. It was so dense that I couldn't see into it. That told me that the light was its power supply, whatever it was."
While teaching humanities at Danville Community College, Koplen tasked his class with debating the existence of UFOs. His pupils were split evenly between those who believed and those who did not.
"The craft was definitely metal," Koplen recalled. "When it was entering our atmosphere, it did not show any signs of the molten-temperature heat that they worry about every time a craft enters our atmosphere. As fast as it was going, if it was like something humans had made, it would have gone up in smoke."
Nuclear physicist Stanton Friedman, the original civilian investigator of the Roswell UFO incident who is now regarded as the top researcher in the field, tapped Koplen's experience among the top half of a percent of all the credible testimonies ever brought before him.
"That was the most confirming remark I had ever heard," Koplen said. "I knew that what I had seen was real."
Similarly to Koplen, Jones had no trouble recalling the aircraft she witnessed.
"There were lights on the outside, but the size...it had to have been reasonably large," Jones said. "It wasn't like those little drones people fly all over the place. It was large."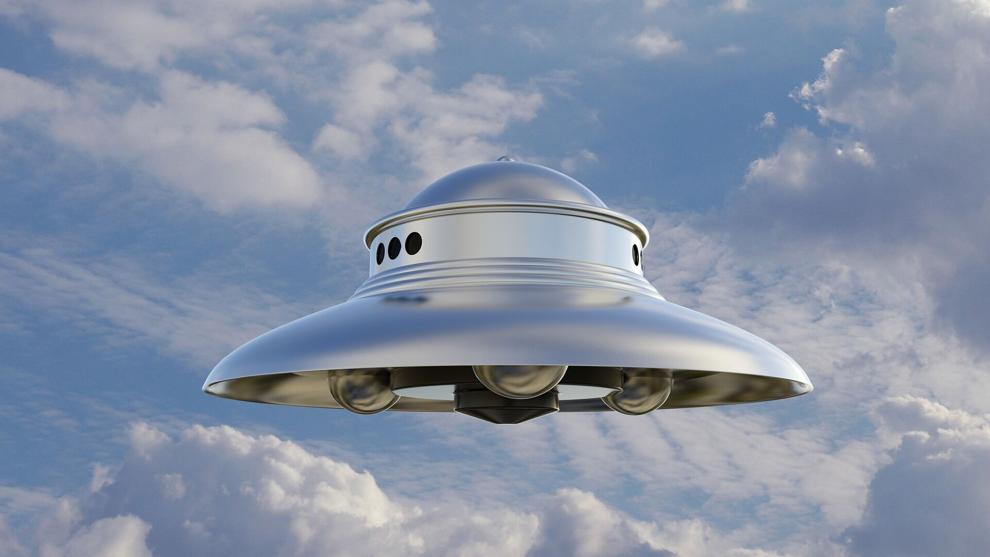 Rebecca Foster of Gretna said she was at the Nor-Dan shopping center several years ago when she saw a distant light. It was around 8:30 p.m.
"When I first saw the light, I thought it was a shooting star. It fell about that fast," Foster said. "Then it stopped and shot straight up until it disappeared."
Many speculate that the Pentagon's UFO report will touch not only on unidentified aircraft, but also on documented indicators of alien life. Some local residents also claim they have had interactions with extraterrestrial beings.
"I went to my ex-boyfriend's trailer and decided to park my car where I usually park it, when in the back corner was standing a toddler-sized alien," said Paola Barriga of Danville. This incident occurred on South Boston Road. "It was completely naked, just pure melon-color skin."
Barriga described the alien as having no hair and being extremely thin.
"As I got closer, it took off so fast into the woods," Barriga said. "My ex-boyfriend asked me why I was so pale. I couldn't believe what I saw that night."
Another Danville resident, Kevin Stone, drove the Star-Tribune out to the exact location where he claims to have witnessed a UFO at the age of 12. Stone is now 50.
"We got billions of planets in the universe," Stone said. "If you think this is the only one with a form of life, I think you've been mistaken."
Thirty-eight years later, Stone can also recall the event with near perfect clarity.
"It stays on my mind," he said. "It's a memory I will never forget."
This sighting occurred on Seminole Trail in Danville. Stone described a coppery, bell-shaped aircraft that hovered over him for about 30 seconds.
"It came and left in the same direction," said Stone, pointing over the townhouse where he lived between the ages of 11 and 13. "It wasn't rotating, but one side was darker, like it had absorbed heat. In other words, it had been traveling at high speeds. But it was copper-colored, plain as day."
Stone said the aircraft he witnessed was 15-20 feet wide—not much greater than two car-lengths. He noted that the most enduring memory of his experience was a warm, grey light.
"I'll never forget it. A grey light came off of it," Stone said. "It came from the top. It was shining down and I could feel a little bit of warmth. I was close enough to see the mechanism come down from up top, whatever it was."
Stone recalls running around the back of the house to get his sister when the UFO took off at "an extremely high rate of speed."
Stone speculated the craft might have been unmanned, saying it reminded him of a Mars rover sent by humans. Whatever it was, at age 50, the phenomenon remains unexplained for Stone.
Jones is now 50 years old, as well.
"It was the freakiest thing I've ever seen in my life," she said. "That part of Pittsylvania County is so deep and dark, there's a lot crazy stuff that goes on."
Stone and Koplen both independently mentioned willingness to take a lie detector test, with Koplen going so far as to have already taken one. The result suggested he was not lying.
"I'm 50 years old now and would like to talk about something I could not discuss when I was a child for fear of persecution," Stone said. "Hopefully, my story will give someone the courage to talk about odd occurrences in their life to hopefully find meaning and closure."
Koplen recited a personal anecdote involving an acquaintance of his, Gerald. Gerald was one of the two friends accompanying Koplen at the lakeside cottage on the night that is forever etched into Koplen's mind.
Some years after the encounter, the two ran into each other at a social function. They had not seen each other at all since that night at Smith Mountain Lake.
"There he was, at this party," Koplen said. "I look at my wife and I say, 'I'm going to go hide over here where he can't see me.' Because he hadn't seen me yet, there were so many people there."
Koplen asked his then-wife, who had never believed his story, to make conversation with Gerald and inquire about if and when he had encountered a UFO.
"Twenty minutes later, she found me," Koplen recalled. I said, 'Well, what did he have to say? Did he tell you what I said?' She looked at me with an expression I did not expect and she said one word. And that word was, 'Verbatim.'"