BLAIRS, Va. — The collaborative efforts of Compassion Healthcare, Southside Soccer Club and the friends and family of a Chatham woman who was murdered last March are keeping her spirit alive and flourishing in Pittsylvania County.
It's been over a year since Patricia Harris Towler of Chatham, a loving mother, sister, daughter and healthcare worker, departed the Earth. Harris was fatally shot in Gretna by her husband, Dean Towler, at the tender age of 43. Dean Towler then turned the firearm on himself, leaving only their infant son, Eben, alive in the car with them.
Today, a new collaboration is seeking not only to memorialize Patricia, but also to raise awareness for the nightmarish extremity that domestic violence can affect.
Patricia was a longtime healthcare worker at Compassion Healthcare in Caswell County, North Carolina. She started as a registered nurse before garnering promotions to charge nurse, and later to clinical operations manager. Angela Martin was a dear friend and coworker of Patricia's for 18 years.
"We have sponsored other teams in the past, but this one is just so special to us," Martin said. "We want to do what we can to keep Tricia's memory alive and her legacy alive. Several members of our organization have had kids over the past that were involved in Southside Soccer and sports, but we knew Southside Soccer had a strong connection to Tricia with Josh [Patricia's older son] playing all of his life. Everybody knew this was just a part of Tricia."
Patricia's sister-in-law, Christine Harris, is a seasoned coach at the prominent youth soccer organization in Blairs. Harris was the genesis of the idea of a potential sponsorship and awareness opportunity through Compassion Healthcare.
"When Christine wanted us to sponsor her team, we were more than glad to do that to keep that legacy going and just to do whatever we can to support the family," Martin said. "Southside Soccer is a great organization in the community that promotes family and doing things together, and that's what Tricia was all about. It just fits so well with continuing to support the family and the community at the same time."
This spring marks the first season of this partnership, but certainly not the last.
"I thought it would be neat to have her workplace, who she considered to be her second family, sponsor my team's jerseys," Harris said. "I thought it was a long shot at first. I had never really reached out to the sponsors — they're normally assigned already here for Southside."
Harris said she reached out to the Yanceyville-based medical center over social media message and got an immediate, enthusiastic response.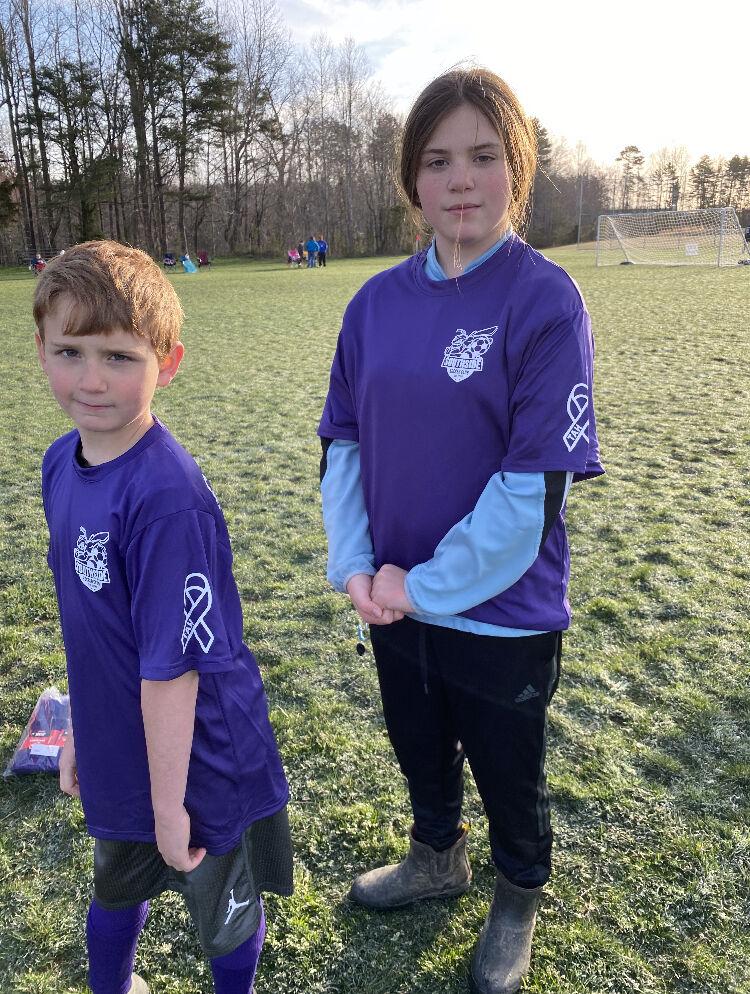 "I had the idea for the jerseys to be purple and for a ribbon to be placed on the sleeve with Tricia's initials placed inside the ribbon," Harris said. "The purple is to represent domestic violence awareness, and I thought that would be a great thing to do in honor of Tricia."
A sponsorship entails providing funding for jerseys, where the company name is displayed across the back. But to Martin, a sponsorship goes far beyond just the dollar amount.
"I feel like, beyond just providing the monetary sponsorship, it's just the support for the family — keeping Tricia's memory alive and honoring her," Martin said. "The purple jersey and the ribbon is a big deal to make others aware of domestic violence and hopefully spread awareness so that these types of tragedies might can be avoided through the energies and efforts pout forth to make a positive difference. So, we're happy to do that. It's just as much about the support as it is the monetary donation for the jerseys."
Harris looks forward to utilizing Southside Soccer as an agent to spread awareness for domestic violence in the future through continued sponsorship, saying, "I'm very passionate as a coach here. I was here on this field right here when Joshua was playing U10 himself. I feel honored to represent this team."