DANVILLE, Va. — An emblem of NASCAR history in Danville has finally made its way back home.
In 1953, stock car racing legend Wendell Scott built a '37 Ford passenger car into a dirt track racing machine with his bare hands, right in his home city of Danville. It would be that same year when Scott would earn his NASCAR license, officially making him the first Black NASCAR driver in history.
Just days ago, in late March of 2021, Wendell's prized car finally returned home to the River City.
"It means the world to me to have that car reunited with my family," said Wendell's son, Frank Scott. "I was hesitant to think this day would ever happen, but we were blessed to be able to get it back."
Members of the Scott family, who live on the north side of Danville, were taken by surprise when the family's heirloom popped up on the auction market over 100 miles away.
"We found out that the car was going to be auctioned off at an auction house in Stony Creek, Virginia," Wendell's grandson, Warrick Scott, told the Star-Tribune Friday afternoon. "We had no idea it was being auctioned, so we had to make a swift decision and try to go and acquire it. We went down there to secure the vehicle, but there was other people bidding on the car, so it wasn't like we just walked down there and got it. We had to fight for it, but we were able to acquire it."
When asked if he entered a bidding war, Warrick said, "Yes, yes we did. It was about 1,000 people out there at that auction that day. It had been advertised on the auction house's website. Obviously, someone can tell it's us, so we had to devise a plan in order to make sure we got it."
Over the decades, a group of automotive brokers were the ones who had maintained ownership of the car, which, coupled with Wendell himself, served as the sole inspiration for a focal character in Disney Pixar's hit movie, Cars 3.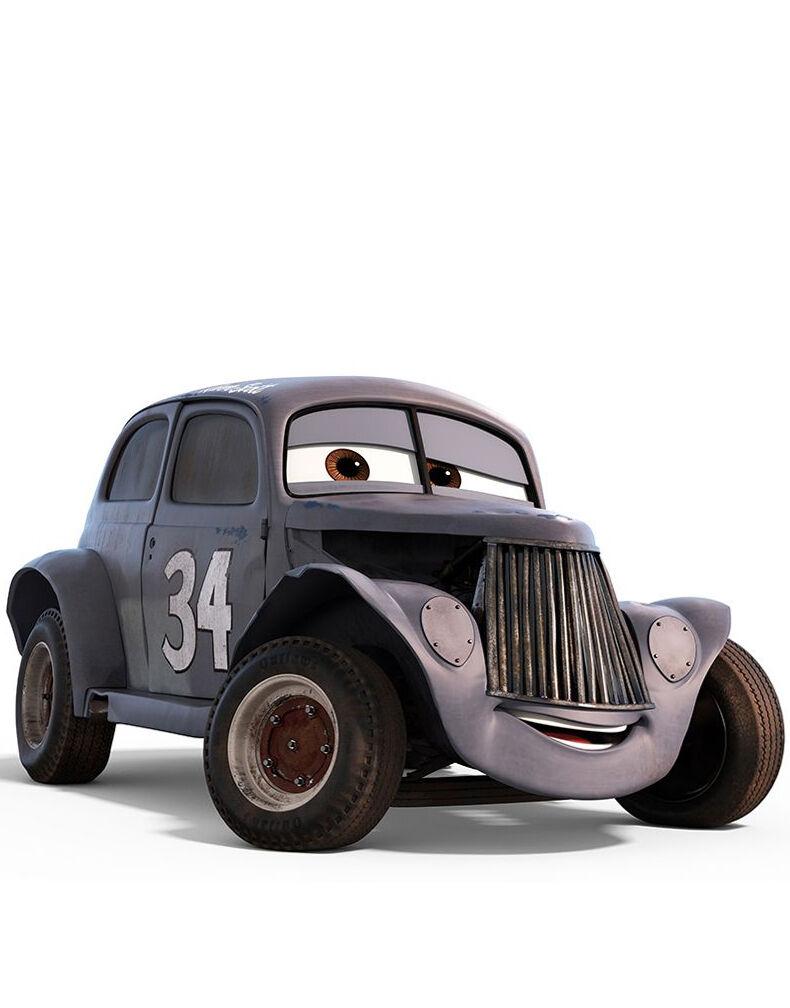 "The River Scott character that I worked with Disney Pixar on — that's the car," Warrick said, motioning to the '37 Ford in his driveway. "When we were working on that character, when that film was about to come out around 2017, we didn't have any possession of the car whatsoever. Now we do."
The Scott family has had some conversations with the economic developers of Danville over the past couple of years in regards to establishing a Wendell Scott Center and Museum, a major dream and ambition of the Wendell Scott Foundation, of which Warrick is the CEO.
"Those talks have stalled somewhat, but hopefully this may be the catalyst to reengage those discussions. We have received great interest from a few other localities in the state about a Wendell Scott museum there as well," Warrick said. "We're going to begin to weigh options. The car will be enshrined in a museum, but it will also be utilized for moments of inspiration in the community, and as an educational resource for youth to be able to still see and touch and hear and feel something that was used during great portions of Wendell Scott's racing career, from 1937 forward. For that to still exist present day is a relic and a jewel. We just want to share it with our community."
Wendell started his career racing on the Dixie Circuit in Danville, when his son was just a boy in Elementary School. But Frank can still recall the day when he helped his father install the custom bumpers on each end of his black Ford, famously brandishing the number 11.
"As a child, I really started hanging around the garage when I was 7 years old — that'll put me around 1954," Frank said. "I can remember being there, doing what I could. Learning the tools, handing him the tool that he needed, and as time progressed, I took on more of a role as a young teenager and then morphed into a young adult. I was a great part of my father's racing career in some capacity."
Frank is passionate about the storied history of the car, recalling a time when his father would drive it 128 miles per hour down Daytona Beach with a smile adorned to his face.
"This car takes you back almost 70 years," Frank said. "My father built this car to run on dirt tracks — there were only dirt tracks back then. There wasn't but one or two paved tracks back in the 50s."
According to Frank, Wendell raced the car six days a week, sometimes twice on Sundays, all over Virginia and North Carolina.
"He actually raced this car on Daytona Beach, when they would run two miles down the beach, two miles up on the highway, then come back onto the track. It was a legendary track before they built the International Speedway back in 1959," Frank recollected. "He raced in this car 400 or 500 times before he entered the Cup Series in 1961. But this car is historic because it's the first one he ever built."
Wendell won his first race at the Natural Bridge Speedway in 1954 with that same car, which he built from scratch. It was a regular passenger car, to which he added suspension, a motor and everything else it took to compete on a dirt track.
"He was a genius," Frank said. "He compensated for a lack of horsepower with his driving skills."
In Wendell's typical circuit, a usual race would see 75-90 cars competing. The worst Wendell ever finished was 33rd.