DANVILLE, Va. — For 16 years, one man has traveled from Greensboro to Danville every single day to carry out his life's work cutting hair. Today, with the help of the mayor, he is running his own barbershop.
JKlipperZ on Arnett Boulevard is a collaborative effort between barber Kevin Bass and Mayor Alonzo Jones. It's a barbershop where barbers can train and earn their credentials in the hopes of spreading their wings and one day flying to a new shop of their own.
"I've been in Danville 16 years. It's about time I put my foot down and make a print," said Bass.
Flanked by fellow Black entrepreneurs and elected officials, Bass and Jones held a ceremonial ribbon cutting Friday afternoon at the shop. The event coincided with Juneteenth, now a federal holiday, which former Councilman Sherman Saunders said "sends chills through my body."
"This is a very, very proud day," said Saunders, who also applauded the ability of the business to both recruit employment to Danville and create jobs for Danville residents.
"A lot of people worked really hard to make this come true," he added. "I can't wait to come to this barbershop."
Xavier Warren, who earlier this month lost the Virginia lieutenant gubernatorial race but won nearly 50 percent of the City of Danville's vote, also attended the ceremony.
"We support our own," Warren said. "We're just getting started. We got a lot of great plans coming to Danville and Southside Virginia."
Danville NAACP President Tommy Bennett emceed the event. He lamented a time during his youth when he and his best friends, most of whom grew up in the projects, could not attend many of the same functions due to classism and racism rampant in the city at the time. Bennett said he maintains the same friends today, each of which is thriving—including Mayor Jones.
Jones delivered remarks at the ceremony revolving around one titular phrase: "Be still and listen." Jones said his mantra, much like the approach JKlipperZ takes with its customers, is to be still and listen to the needs of his constituents.
"It's not about me, it's about you all," Jones said. "Oftentimes we recollect the negative things. There are so many blessings coming your way, why focus on the negative?"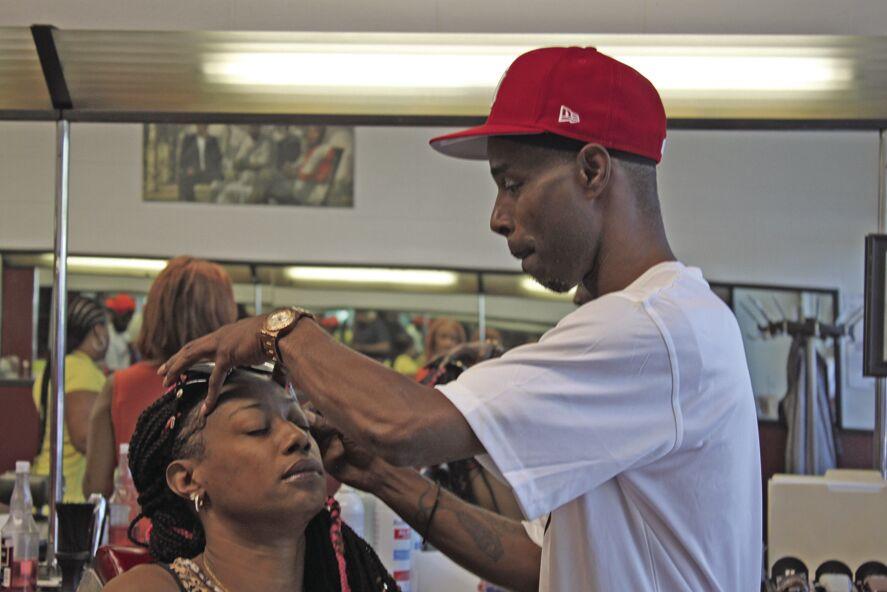 Bass noted that, regardless of one's background, JKlipperZ will prove to be a safe and friendly place to acquire a valuable new trade.
"We're going to get a lot of people in and get them licensed so they can do a lot more things," said Bass, a licensed barber instructor. "If you don't have a license, you can't cut nowhere. We're opening up doors for a lot of people, and barbering is the cornerstone."
The barbershop is a universal experience, Bass said.
"Everyone goes to the barbershop, it's where you talk about things you don't talk about at home. It's helping out the youth and it's helping me out as well," he said. "It just put me around the right people, getting me to the place where I want to be—Danville. This is the perfect place for me."
Councilman Barry Mayo said that Mayor Jones orchestrated a talented team at JKlipperZ, denoting it as a premier establishment in the city.
He addressed the crowd, saying, "Danville City Council says 'thank you' for coming out and welcoming this establishment to the city."
The Educate and Vaccinate group as well as a number of local food vendors also attended the event. From the minute the scissors touched the ribbon, JKlipperZ was already open and cutting hair.
In his prayer, Bishop John Williams said, "We give this friendly barbershop back to God."
JKlipperz is located at 144 Arnett Boulevard in Danville.