The Pittsylvania County Parks and Recreation Department offices at The Community Center, Chatham, had its ceremonial ribbon cutting on Wednesday, May 31.
Pittsylvania County Board of Supervisors Bob Warren said, "What a beautiful facility this is to continue the good works Parks and Recreation have already done."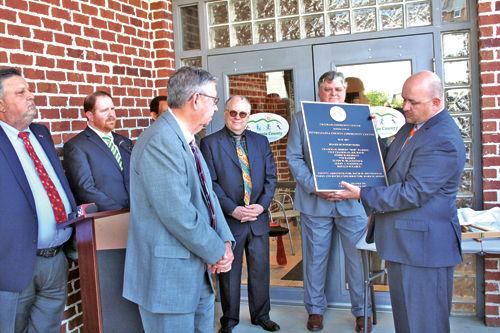 "I would like to especially thank Danville Regional Foundation and its president Karl Stauber," said Warren. "He was perhaps the first person to have the vision to see us as a region."
According to Warren, parks are going to be vital to the health and welfare of the county and the region.
He said not only will the facility be used by the citizens of Pittsylvania County, but also it will have conference rooms and space for rent, adding to the economic growth plan of Pittsylvania County in becoming the number one county in all of Virginia.
"Stay tuned to see what's next," said Warren.
Pittsylvania County Parks and Recreation Director Mark Moore said he wants not just growth, but managed growth.
"One thing is building, another is maintaining," Moore said.
According to Moore, parks and public spaces play a role in mental and emotional wellness, in addition to physical fitness.
He said fixing things up nice builds expectations that must then be lived up to. If he were to place new signs and put on fresh coats of paint, then those attracted will also expect the rest of the area to be equally as nice if not more so, he said.
However, should the opposite be true, should he mismanage his limited staff, and have trash cans overflow, then he said he wouldn't be doing his job correctly. He said he would be letting people down, and hurting the morale of the people.
Moore said he's optimistic, yet pragmatic. "There are lots of nice things we can do, and people give us good ideas – they aren't being ignored, but you need to remember, out of the 250 years of Pittsylvania County being here, the county parks and recreation department has only been around for six years," he said. "Things take time."
"Undersell and overproduce, is what I say," said Moore.
Currently the county only has four official parks, one at each of the middle schools, said Moore. The new location is kind of a midpoint that is between two of the four parks. Ideally, the department will grow and a second facility will occur in the northern part of the county, he said, but that's further down the road.
For now, he's finishing the hiring process of one additional employee.
Moore said, "When we focus on problems, we'll have more problems. When we focus on solutions, we'll have more opportunities."
Delegate Les Adams, Chatham native, said he usually visits the center on Tuesdays for Rotary Club meetings, and at first he was very concerned that the facility wouldn't continue helping the community, but with the show of leadership he has seen, his worries have faded.