GRETNA, Va. – Gretna High School recently held their annual Decision Day.
The day recognizes seniors' futures – college, trade school, military, and workforce.
The event was organized by Melinda Espinoza, Gretna High School's college guide who works through the Virginia College Advising Corps at UVA.
"It's to celebrate the future plans of all seniors," Espinoza said.
She had seniors design their own t-shirts that read, "I'm going to _____." Students filled in the blank, tie-dyed the shirt, and will wear them to graduation practice.
Students were also given the opportunity to have their picture taken in a photo booth, write thank you notes to faculty and staff, pick up goody bags, eat refreshments, and get entered in a drawing for bigger prizes.
The event, which was canceled last year due to COVID, was held over three days so that students could be staggered for social distancing.
Students with various plans all enjoyed the event, which allowed them time to reflect on their high school experiences and celebrate their futures.
Aditya Patel will attend Pennsylvania State University in the fall to study mechanical engineering.
"I'm happy that I'm making progress in life and trying to be successful," he said.
Tristan Owens also plans to attend a four-year university, but will get his first two years completed through Danville Community College.
"I'm a little nervous, but hopeful," he said.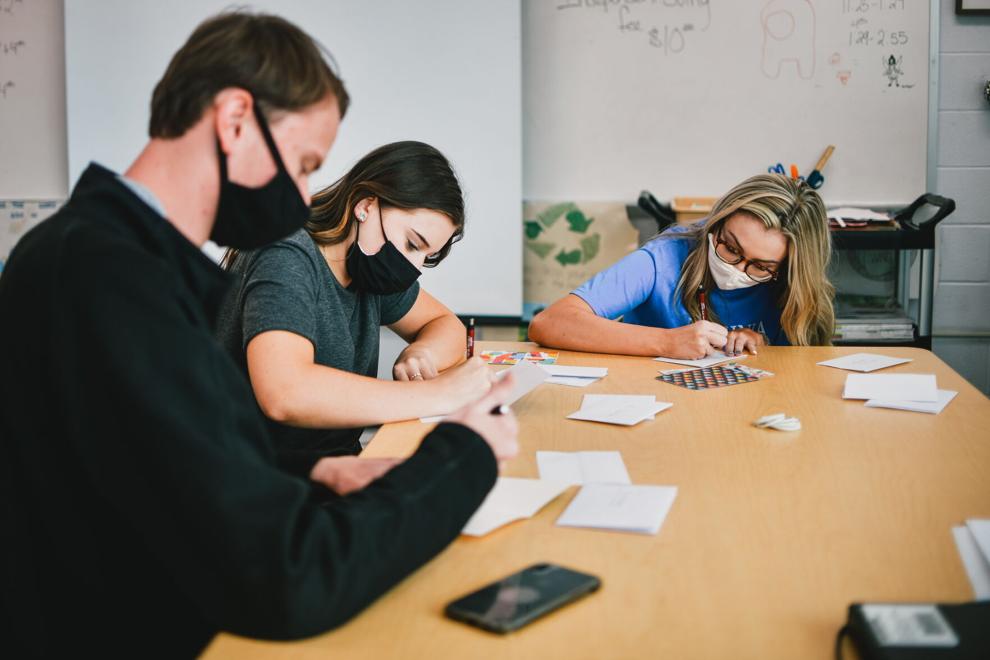 Julian Shelton is going to attend Southern Virginia Community College to become certified as a linesman.
"It's exciting, but I'm nervous," he said. "I'm glad to graduate, but it's going to be a lot more responsibility."
Emma Brown is deciding between the Marines and the Air Force.
"It's kind of terrifying, but also pretty darn exciting," she said.
Brown also enjoyed participating in the Decision Day activities.
"It was cool," she said. "I got to hang out with my friends that I've had since sixth grade."
This was also a Decision Day of sorts for Espinoza herself, who recently elected to return to UVA for graduate school after she finishes this year working at GHS.
She selected UVA over Vanderbilt, William and Mary, and Virginia Commonwealth University to work on her Master's Degree in Counselor Education to go along with her bachelor's degrees in Biology and Psychology.
She enjoyed serving her two-year term at GHS, working with the seniors.
"The Class of 2021 has overcome a great deal of challenges to get to this point in their senior year and I couldn't be prouder," she said. "I am overjoyed to be able to celebrate the culmination of their hard work and accomplishments as they publicly announce their plans after graduation.
"I look forward to seeing all of their goals come to fruition and wish the GHS Class of 2021 all the best in their futures."