DANVILLE and SOUTH BOSTON, Va. — Yoga, the simple practice of stretching to achieve core strength and relaxation, has been around in the Southside for decades – yet it has remained widely inaccessible to the Black community, people with disabilities, children and those living under the poverty line. New efforts in Danville, however, seek to make yoga accessible to all.
For most in Southern Virginia, "yoga" refers chiefly to Asana, the physical and non-spiritual practice of yoga. Danville resident and Certified Yoga Instructor Danielle Rae Montague became familiar with Asana as a senior at George Washington High School, where she was a member of the dance team.
"One of my dance teachers in high school started a yoga class," Montague recalled. "It was a way for us to get more stretching in, which was important because I was on a competitive team."
Asana practice generally aims to build strength and stamina, to improve flexibility, coordination and balance, and to relax the body. While it represents only one aspect of the traditional practice of yoga as a whole, it epitomizes the Western denotation.
"I said, 'Oh, this is what relaxing feels like? I need to do this more,'" she laughed. "I was always tense and didn't realize that I was never really relaxing."
Montague would go on to study exercise science and kinesiotherapy at Norfolk State University, an HBCU.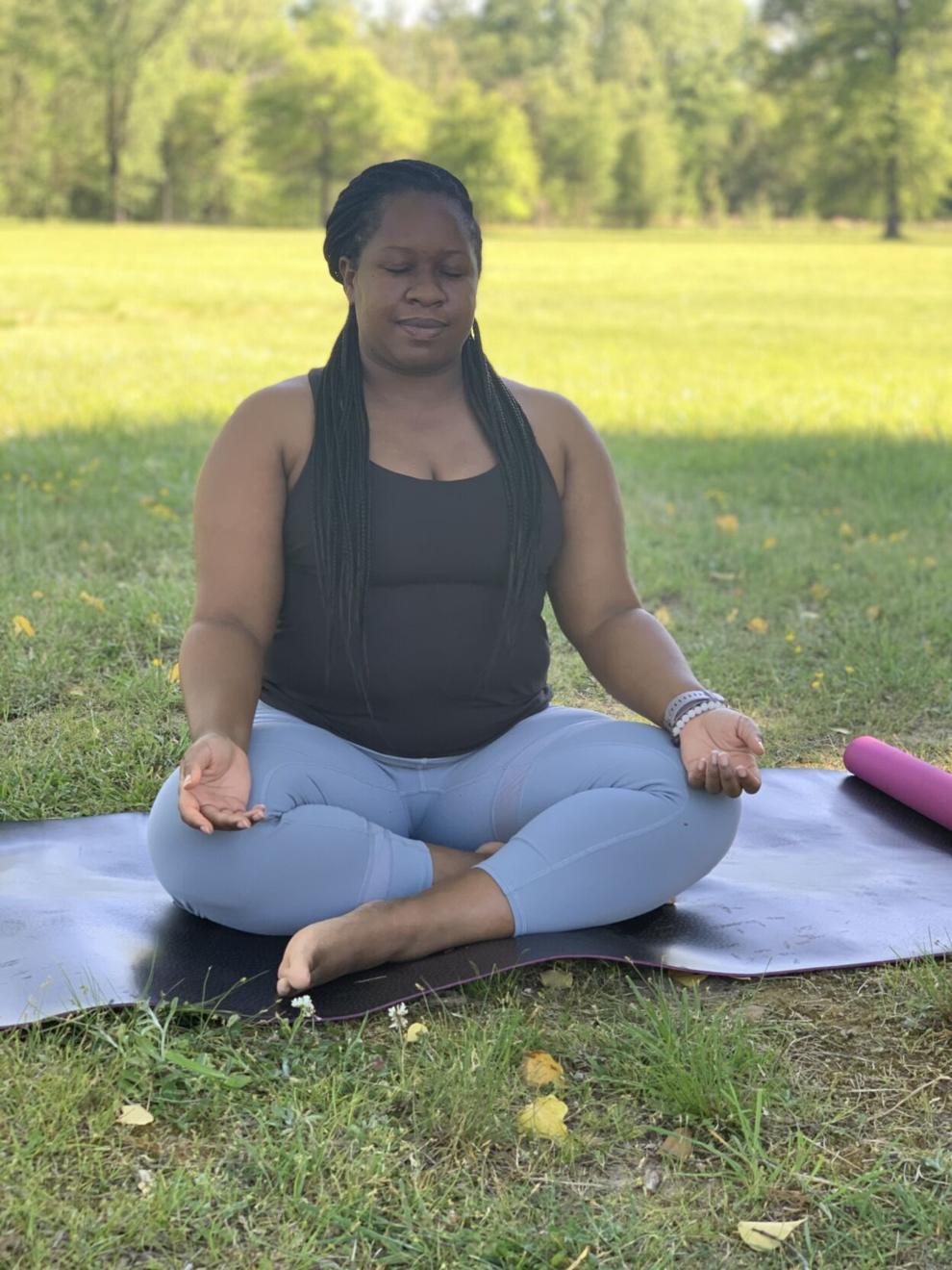 "When I came back to Danville, Hot Asana was offered here and I continued to take it," she said. "It was not a lot of Black people in my class, which I thought was interesting because I just came from a Black university where everyone in my class was African American."
Cyndi Reames is the owner of Danville Yoga and Meditation Center on Westover Drive, a pioneer studio with an 18-year presence in the city.
"We opened when yoga wasn't even heard of Danville," noted Reames.
Before Montague arrived at the studio, Reames noticed a patent lack of diversity among the clientele of the establishment, then the only in town.
"It was typically only White females," Reames said. "With Danielle Rae coming on, she now offers Brown Girl Yoga monthly. It is open for anyone, but it is a safe place for people of color to come together and practice yoga."
Donna Garrett, a South Boston resident and Certified Yoga Instructor, has been practicing yoga since 1996. She said it was not until 2017 that she noticed an inkling of diversity in the local yoga community, despite the fact that South Boston's population is 57 percent Black.
"That's exactly how it was – when I started, it was the same group of White women for 14 years," Garrett said. "As far as racial diversity, it has definitely evolved in the long time I've been doing this. I would say I first noticed the difference about four years ago."
For Montague, the ruling impediment to practicing yoga in the Black community has been misapprehension about its spiritual and religious implications. For Montague and most in the Southside, there are no religious obligations to practicing yoga whatsoever. In fact, according to Pew Research, over 70 percent of Americans who practice yoga are Christian.
"It is something that the African American community believes is not for them. They believe it's a spiritual practice that is not in alignment with their own spiritual practice," she said. "I see their point, but not all yoga is spiritual. Some is literally for physical and mental health."
Forty-nine percent of evangelical Protestants, 40 percent of Catholics and 55 percent of members of the historically Black Protestant tradition practice yoga once a week or more, according to Pew's Religious Landscape Study. Among some smaller Christian groups, the share of self-described meditators is somewhat higher – 6 of 10 Mormons and 77 percent of Jehovah's Witnesses practice at least once per week.
"I try to make sure everything I do has a diverse audience – race, disability, gender, sexuality," Montague said. "I wanted to expand the horizons. Yoga is not just for a certain type of people – everyone should enjoy this."
Montague's class at Danville Yoga and Meditation Center, Brown Girl Yoga, is a trailblazing effort to realize diversity in the local practice of yoga. The class is offered on Sunday mornings and often precedes brunch and stimulating conversation.
"It's not only for brown girls, it's just to say, 'Hey, this is specifically made for you,'" Montague said. "It has grown tremendously to something I am really proud of. I thank Danville Yoga and Meditation Center for letting me share their space, because I have seen an increase in the Black community participating in something they wouldn't usually have participated in."
After 15 years in the River City, the local appetite for yoga grew to support a second studio outside of Danville Yoga and Meditation Center. Firefly Yoga opened its doors on Main Street in the River District in 2018. Launched in May 2020 at the apex of the COVID-19 pandemic, the studio saw success with Yoga on the Lawn, an outdoor class at the Danville Museum of Fine Arts and History offered for free every Saturday morning, thanks to a muesum donor.
"Initially, we started it because our studio was closed due to the pandemic, but people really enjoy it and the museum is happy to host the group," said Lauren Mathena, Certified Yoga Instructor at Firefly. "I think the outdoor classes being free is one way we foster accessibility – cost is an aspect. Physical ability is another aspect."
Mathena shared that, in her yoga teacher training and that of most fellow instructors in the region, training is tailored only to the practice of yoga in an able body. After obtaining certification, Mathena sought out specialty training to expand her audience to people with disabilities – a group overlooked in Danville's yoga community until very recently.
"The adoption of yoga into Western culture came in a very high-intensity style, in your stereotypical Type A way...fast-moving, more like CrossFit," Mathena said. "Across the U.S., the style of slower paced yoga is finally getting here. That makes us even more accessible because you don't have to be able to keep up with the strength component to still achieve physical and mental benefits."
Another barrier to accessibility in a city like Danville is economic status. Yoga has quickly joined the ranks of avocado toast as a frivolous taste of the Millennial palette in the public eye, but for yoga instructors like Mathena and Sherri Tuck, who is affiliated with Danville Yoga and Meditation Center, a push for economic accessibility in yoga is needed.
Tuck teaches a monthly yoga class at God's Storehouse Urban Farm on Memorial Drive in Danville on the second Tuesday of each month at 6 p.m.
"When I finished my yoga teacher training, I knew that I wanted to develop something for the Urban Farm," Tuck said. "One of the goals of yoga is to make it accessible to everyone, and also to give back. Giving back is very important part of my practice."
Tuck referenced the Sanskrit word "seva," meaning "service." She operates the class on a donation-only basis, allowing her students to pay what they can afford.
"Since I started that program, I have also started working with some of the groups of children that have been working on the farm. That's another way to make yoga accessible to those who wouldn't normally have access to yoga," Tuck said. "Studies have shown yoga and meditation can help children, especially children that have trouble focusing. That's one thing that we are trying to do with these programs with the kids. Although this particular class is in its infancy, this is the first time that we have really started trying to work with at-risk youth in our community with yoga classes."
Proceeds from the class are forwarded to God's Storehouse, a non-profit food bank serving Danville and Pittsylvania County.
"When we do the yoga, we are surrounded by butterflies, pollinators and plants," said Farm Manager Stephanie Adkins. "It brings us all together as one with Earth. You can feel the good vibes and everything good we're doing here."
Mathena, too, has emphasized economic diversity in her work with Firefly. She also mentioned body positivity and availability of transportation in her mission to foster accessibility.
"I offered some virtual Zoom classes for free during the height of the pandemic," Mathena said. "The time commitment was less because they didn't have to get the studio, and it was good for people who are self conscious."
There is still work to do, Mathena said.
"You still need broadband internet and a device, however," Mathena admitted. "Within Danville, because of the pandemic, we haven't had a chance to gather as teachers and really talk anout the issues of equity and diversity that have recently come to the top of everyone's mind."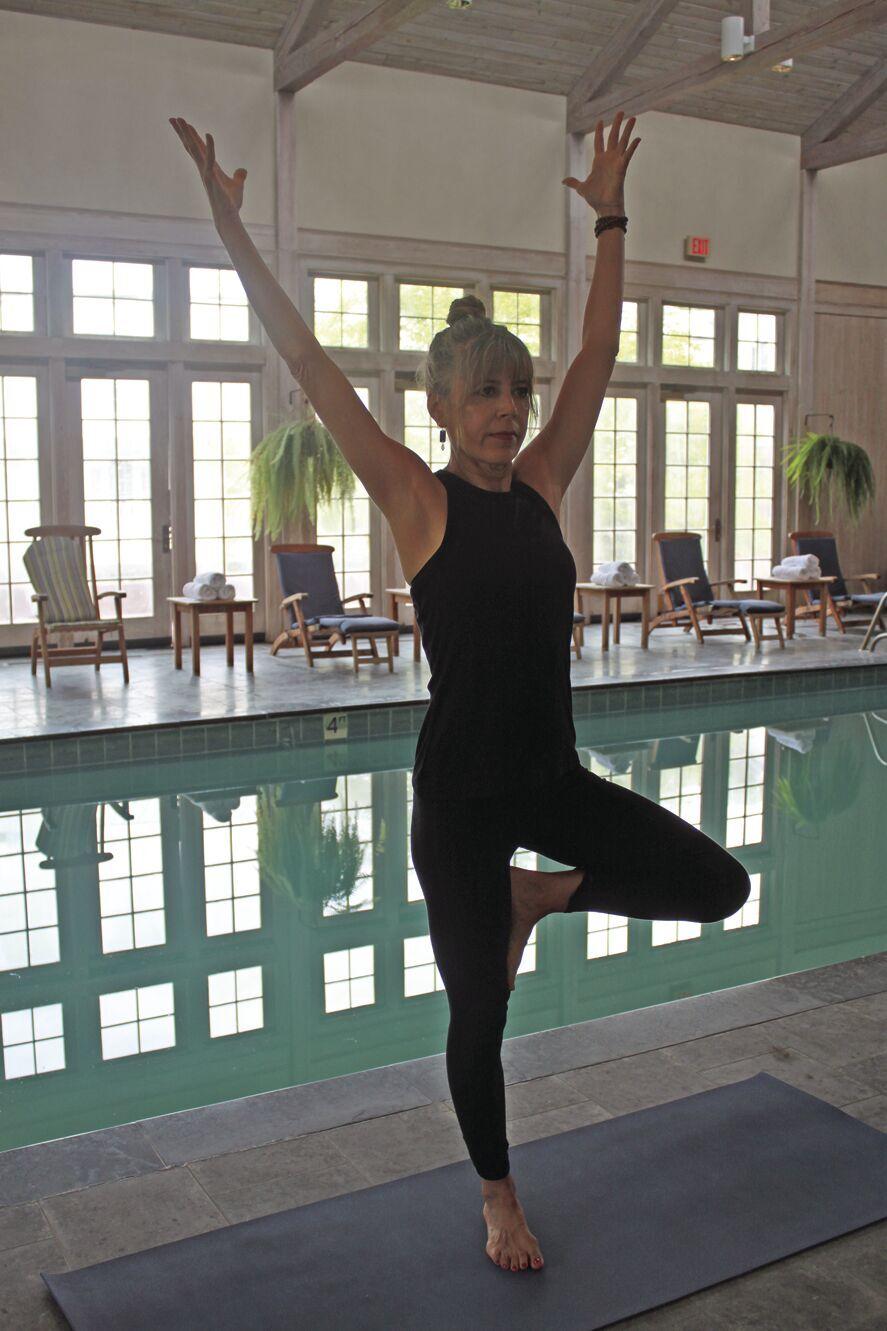 Garrett, who teaches a weekly class at Berry Hill Resort in South Boston, said she got into yoga in the 90s purely as a fun way to exercise.
"A friend invited me to a yoga and Pilates class and I said, 'Oh, God, I hate to exercise,' because I truly hate to exercise," Garrett laughed. "She begged me to go, so I went. I've never stopped since."
Every Saturday morning at 9:30 a.m., Berry Hill Resort guests and local residents alike gather by the pool and practice yoga with Garrett.
"Over the last four or five years, there has been such a mix of races and genders in my class, and I love that diversity," Garrett said. "Just to have this beautiful spot so accessible to locals for $10, you can't beat it."
Berry Hill's Wellness Weekend is coming up Aug. 13-14, which attracts a significant crowd from Danville and neighboring Pittsylvania County, Garrett said.
 "I find yoga helps so much with stress, but the added benefit is that I'm getting exercise and it doesn't feel like I'm working," she said. "I just love the community and the people, and I've never stopped."
Leigh Ann Shields, Berry Hill marketing manager, wants Halifax County to know that Garrett's class is not only for hotel guests. It signifies an easily reachable avenue to experience the benefits of yoga in the heart of Southern Virginia.
"The yoga is a great way for the locals to experience Berry Hill," Shields said.
On July 27, Lawn Love named Greensboro, just 45 minutes form Danville, the top city in the nation for outdoor yoga. Winston-Salem ranked No. 5, Arlington came in at No. 6 and Richmond at No. 8.
Karen Maute, the founder of Danville Yoga and Meditation Center, handed the reins to Reames in February 2019. Maute has shifted focus to opening a new studio in the small town of Meadows of Dan in Patrick County. She has received some pushback, Reames said, but it's nothing new to her.
"She, alone, really brought yoga to Danville," Reames said. "Her original goal was to be able to serve the community."
Since taking the helm, Reames has expanded the studio's offerings to include hot yoga, yoga teacher training, Tai Chi, massage, reiki, Kung Fu, meditation and other holistic practices. Something else big is coming to the yoga center, but Reames was unable to tell reporters just yet.
"Our students range from age 7 to 80, so it is a diverse group of people and we teach in various styles," she said. "I have noticed more men coming into the practice, and I have even done some programs with football players and student-athletes. Men are starting to get more interest in it – you're seeing a lot of professional athletes move that way."
Reames said she has noticed Danville Yoga and Meditation Center emerging as a leader in expanding racial diversity in Danville's yoga community.
"We have been told by our POC community that they feel comfortable in this space," Reames said. "They like the location of it. I'm not from Danville, so I can't speak to why it may be the case that they may be more comfortable outside of downtown in Westover, but they are."
Firefly Yoga is located downtown, but Reames said she doesn't view the studio as competition – it does not fit the yogic narrative.
"As far as competition for me personally, I do not like the competition in yoga because I feel like yoga is for everybody. I do not care fore the divide that is sometimes there," Reames said. "Living in Danville, there is a divide between stuff taking place in the River District and elsewhere. It is a lovely place, but there are a lot of things and a lot of places in other parts of Danville just waiting for people to come. I like that we can all come together and do things together on the river, but at the end of the day, we all have the same goal: to bring yoga and other interesting things to our city. Our little corner of Westover is going to be really neat."
Montague, who also works for Danville Parks and Recreation, laughed about the practice of "trap yoga" at the Danville Community Market downtown, but said that urban yoga is the key to continuing the mission to make yoga accessible to Black people in Danville and Pittsylvania County.
"Once people from the Black community started coming, it was not what I expected – it is fun when you hear music you're familiar with," Montague said. "It doesn't have to be spa music and waterfalls in the background, it can be music you enjoy listening to. When I did yoga teacher training under Cyndi [Reames], it was perfect because it was for social justice and equity. Equity is what I'm all about."
Danville Yoga and Meditation Center is located at 2000 Westover Dr. in Danville, and can be reached at 434-328-4990.
Firefly Yoga is located at 415 Main St. in Danville, and can be reached at 434-352-1635.
Berry Hill Resort is located at 3105 River Rd. in South Boston, and can be reached at 434-517-7000. God's Storehouse Urban Farm is located at 750 Memorial Dr. in Danville and can be reached at 434-793-3663.
Yoga has been practiced since the year 400 and comes from the Sanskrit word "yuj," meaning, "to unite." The practice has always aimed to create unity between body, mind and spirit; between the individual self and universal consciousness; and between the individual and fellow members of the community.