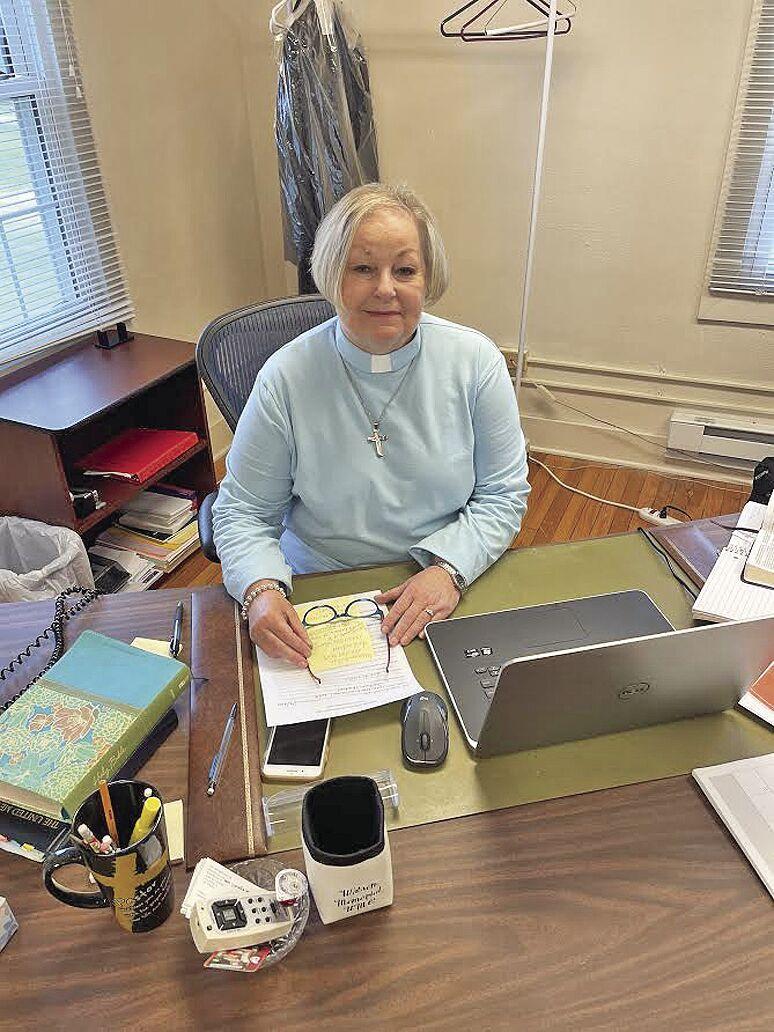 CHATHAM, Va. — Chatham's Watson Memorial United Methodist Church has recently welcomed Pastor Pat Kelly into their arms.
Kelly has been a licensed preacher since 2019. She's all moved into her new Chatham home and is ready to serve her new church and local town community. "I love the town," Kelly said.
Kelly is a woman of diverse background. "I have a business degree from Strayer University. I've spent 20 years in commercial real estate. I'm a certified massage therapist. I mean, I've done a lot of different things," she said.
Only After all those adventures outside the church did Kelly consider the priesthood. "It took a time going to our annual [Methodist] conference in 2017, and our new bishop at that time had a call after the bishop service. I was licensed in 2019. I served 2 years, what is called a charge. The Methodist church sends us where they want us to go," Kelly said.
Even though Kelly has found her home with the Methodist denomination she did not grow up in it. "I was raised a Baptist, but I grew up in a military family and moved around a lot. Most of the time during my childhood we were in areas, like France, where there was either a Protestant service or a Catholic service or a Jewish service. It wasn't a denominational type of service…After being raised many years as a Baptist, we moved more towards general protestant," she said.
Both Kelly and her husband looked for a church that best suited them. "When we were looking for churches, at that time when we got married, we went to Baptist, we went to Methodist, we went all over to find a church. We always came back to Methodist," Kelly said.
Kelly's husband felt the God's call as well as she did, although he did not answer the call until much later. "He had felt the call when he was in high school. But then three days out of high school he was drafted and sent to Viet Nam for two combat tours. When he got back he wasn't ready," Kelly said. He now preaches over by Oakland United Methodist Church in Blairs.
For Kelly, the consistency and rooted tradition is what draws her to her Methodism. "The traditional worship, the traditional beliefs, listening to the word, following the bible to what is written in the bible… it's the traditional methods and theology that bring me to this denomination," she said.
One of the traditional Methodist beliefs that draws Kelly is the churches stance on one's own ability to choose a path. "Some of the Baptist believe in predestination. That everything is decided before [a person is born]. The Methodist do not believe this…God has set for us the path. It is up to us whether or not to follow that path," she said.
Kelly has chosen a path of service, focusing on the less fortunate in the community. "My personal mission is feeding the hungry and helping with the homeless, in particular the homeless youth," she said.
She has had past experience with these the issues of hunger and homelessness. "In the northern Virginia area, where we used to live, we worked with a non-profit called Mobile Hope, which deals with homelessness… we worked with FACES [who deal with hunger], in Keysville," she said.
Kelly has no plans to stop her acts of service in Chatham and Pittsylvania county. "I've already talked with Michael Pew about the Northern Pittsylvania County Food Center," she said.
Kelly is ready for her pastoral duties and is already taking steps. "I'm looking to be out in the community to be more visible. You'll always see me with my clergy color. It's a method of evangelism that gives me the opportunity to talk to people that otherwise wouldn't stop to ask me for prayer."