RINGGOLD, Va. — The Dan River High School Athletic Hall of Fame inducted their Class of 2021 on Friday after not having inductions in 2020.
Friday's ceremonies was an emotional night where three coaching legends honored as the third Hall of Fame class at Dan River. Ferrell Edmunds Jr, the late David Bullins, and the late Dennis Saunders all were honored at halftime.
Bullins, Saunders, and Edmunds were known throughout the Dan River community for their commitment to excellence and how they mentored and touched the lives of men and women throughout the area. All three at one time coached for the Dan River Youth Football program, with Edmunds and Saunders later coaching football and basketball at Dan River High school. This trio and were previously inducted into the Pittsylvania County Sports Hall of Fame.
When you thought of Dan River Youth Football, David Bullins was the first name most people would come up with. However, Coach Bullins' coaching legacy started in 1964 at Stanleytown in Henry County and later in the Danville Optimist League. In the early 1980, Coach Bullins founded the Dan River Youth football program and served faithfully from 1981 until 2020.  In 1981, he even served as an assistant coach at Dan River High School under head coach Everett Woods. The creation of the Dan River Elementary (later renamed Dan River Middle) football team served as a feeder program for Dan River High School. Bullins has coached 518 games with a summative record 409-95-14 and coached the middle school Wildcats to 20 championships including winning his 20th and final title on a last second – which turned out to be his last play as coach.
Bullins was influential in the creating and overseeing the Dan River Youth Football program for close to 40 years as he spent countless hours on field prep, raising money for concessions, shelter, equipment, etc. His impact and dedication to the Dan River Community was rewarded first in 2014 as he and his wife Connie were two of the inaugural 13 members of the Pittsylvania County Sports Hall of Fame in 2014. In May 2021, Bullins was honored by Pittsylvania County and the Dan River community as the Dan River Middle School football field – a field where he was responsible for its construction and maintenance - was renamed the Coach David Bullins Football Field. Bullins passed away after a courageous battle with Brain Cancer on July 9, 2021. Connie Bullins, along with his daughter and son-in-law, Allyson and Allen Springs, his grandchildren, and other family accepted his plaque.
Dennis Saunders, known by many as Coach Dino, was a 1982 graduate of Dan River High School, where he was a standout football and basketball player. Saunders was also a veteran of the United States Army and coached on the youth and high school levels at Dan River for over 20 years. Saunders joined the football coach staff under Coach Edmunds and served as a varsity assistant coach for multiple years and had a five-year run as JV head coach. As JV coach, the younger Wildcats finished with a 39-8 record, three first place seasons, and an undefeated season in 2012.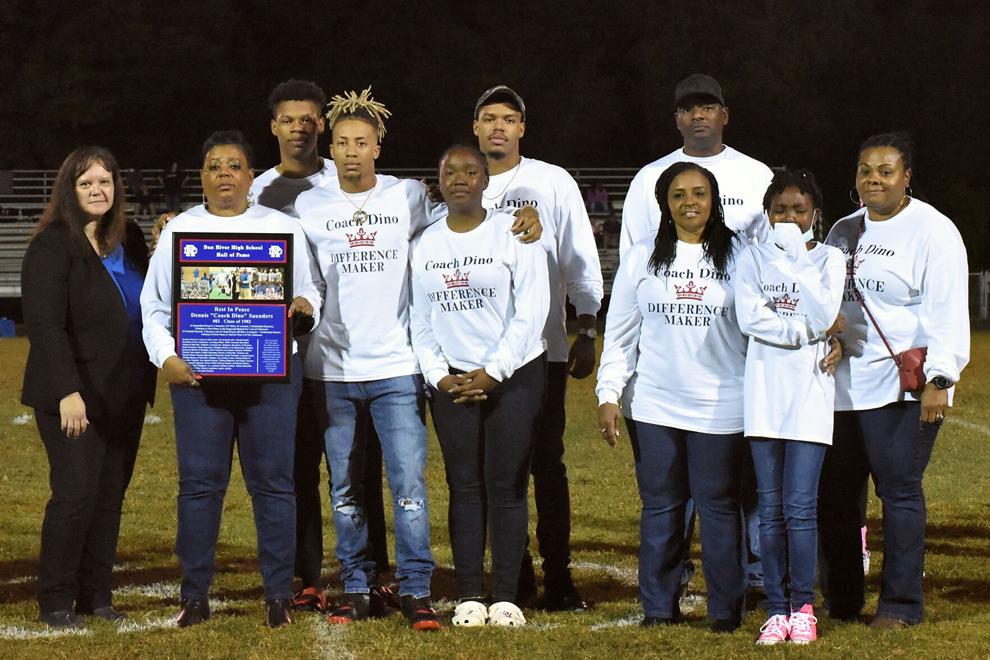 Coach Dino also served as head JV basketball coach and an assistant varsity coach under Coach Kenny Murphy, as he was a coach on the 2014 Group 2A state champion basketball team. Saunders guided the JV program from 2012 season until his untimely passing from complications from COVID late December 2020. Saunders' career record as JV basketball coach was 117-21, with two undefeated seasons and seven district championships seven out of eight years. Coach Dino always instilled integrity, hard work, and dedication to school, family, church, and community. Coach Saunders' wife, Pamela, along his sons and family members accepted Coach Dino's plaque. The family all wore shirts that truly describe Coach Saunders' legacy as it said "Coach Dino – A Difference Maker".
Ferrell Edmunds Jr. had stellar careers at George Washington High School and the University of Maryland before being draft by the Miami Dolphins in the 1988 NFL Draft.  He would go on to have a Pro Bowl career with the Dolphins and the Seattle Seahawks before his retirement in 1994. Upon returning to Pittsylvania County, he coached his three sons – Trey, Terrell, and Tremaine – in the PCYL football and basketball programs. He now joins his sons again in the Wildcat Sports Hall of Fame as a coach after turning around a Dan River football program that struggled in the mid-2000s.
After serving as JV football head coach in 2007 and leading them to a 9-1 record, Coach Edmunds was named the varsity head coach in 2008. He would serve in that role for 11 seasons, amassed an overall record of 76-45, two district titles, two county titles, and earned Coach of the Year honors from the Dogwood Districts.  Under Coach Edmunds, the Wildcats became perennial playoff contenders as they reached the postseason eight consecutive seasons from 2011-2018. He also had 25 players sign or play college football at Virginia Tech, Cincinnati, and Cornell just to name a few, with his three sons all making the NFL with Trey and Terrell playing for the Pittsburgh Steelers and Tremaine a defensive captain for the Buffalo Bills.
 In addition, Edmunds served as a JV assistant coach under Coach Saunders and was a member of the coaching staff on Dan River's 2014 Group 2A Virginia State Championship Basketball Team. He was inducted into the Pittsylvania County Sports Hall of Fame in 2017. Coach Edmunds, his wife Felecia, and several family members were present as he accepted his Hall of Fame plaque. His sons, who all play in the NFL, were unable to attend but expressed their congratulations on social media about their father's induction.