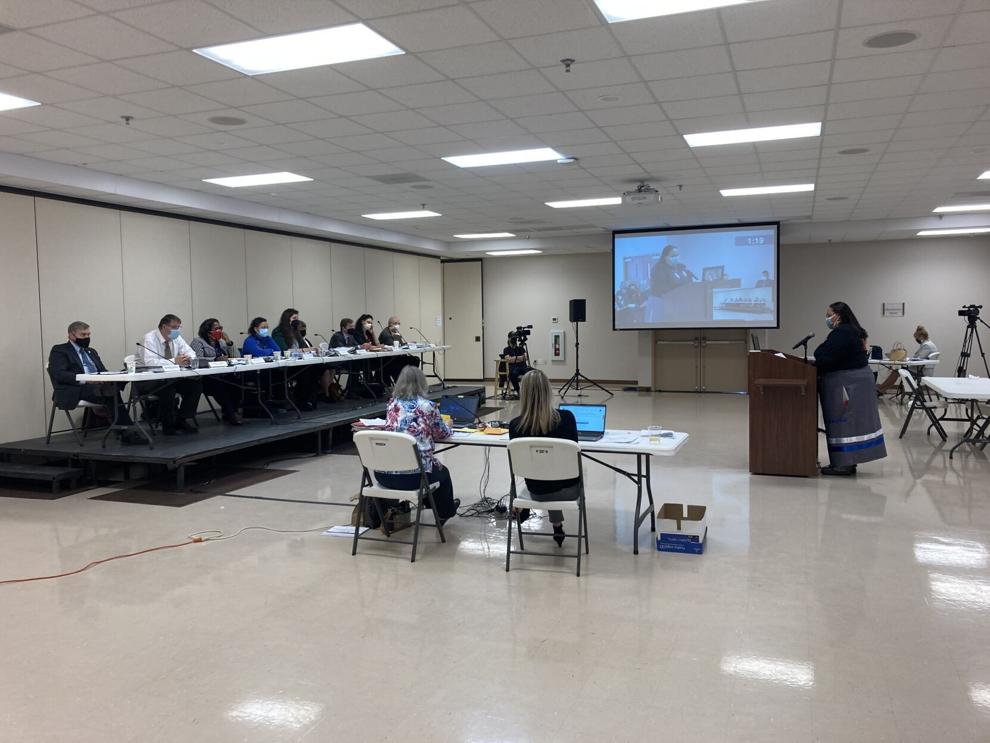 A permit request to construct and operate a component of the proposed Mountain Valley Pipeline Southgate project in Pittsylvania County was denied this week by the State Air Pollution Control Board.
The board met on December 2 and 3 in the Olde Dominion Agricultural Complex (ODAC) Education and Conference Center in Chatham. Presentations from Department of Environmental Quality (DEQ) staff, discussion among board members and public comments stretched the meeting to more than 13 hours over the two-day period before the board voted 6-1 to deny the permit.
"Approving this permit would promote environmental injustice," board member Hope Cupit said at the meeting.
The component in question was a natural gas-powered compressor station known as the Lambert Compressor Station (LCS). Compressor stations are necessary for pipelines to maintain proper pressure and to keep gas flowing.
The LCS was proposed for a site directly adjacent to two existing compressor stations, known as the Transco 165 and Transco 166 compressor stations. It is an area 3.1 miles from Main Street in Chatham.
The LCS, based on numerous analyses conducted by DEQ, could emit significantly lower concentrations of some pollutants than the existing Transco sites, and slightly higher concentrations than the Transco sites of others. That's according to data provided by Paul Jenkins, Air Permit Director for DEQ's Blue Ridge Regional Office, at the meeting Thursday evening.
Based on their permits, the Transco sites, which were measured as one site due to their closeness, and the LCS can release no more than the following concentrations in tons per year (tpy) of various pollutants:
Nitrous Oxide
LCS 12.4 tpy
Transco 709 tpy
Carbon Monoxide
LCS 17.3 tpy
Transco 199 tpy
Volatile Organic Compounds
LCS 3.3 tpy
Transco 40 tpy
Sulfur Dioxide
LCS 5.4 tpy
Transco 3.4 tpy
Particulate Matter (includes PM10 and PM2.5, as figures are identical for both sizes)
LCS 10.4 tpy
Transco 15 tpy
Compressor stations generally emit far lower levels of pollutants than their permits allow.
In response to a question from the board on Friday about whether an assessment of the potential health impacts of the LCS was conducted, DEQ Air and Renewable Energy Division Director Michael Dowd said such a study is not within DEQ's purview, and didn't make sense given the circumstances.
"The concentrations, the impacts were so low, almost miniscule once you get beyond 300 meters of the project, that an individual health assessment would not render any useful information," he responded.
Some public comments were received prior to the meeting in favor of the pipeline, but numerous citizens of Pittsylvania County and activists from areas with the potential to be affected by the Mountain Valley Pipeline in North Carolina spoke in opposition of the project.
Anita Royston, President of the Pittsylvania County branch of the NAACP, said during public comment that she felt the board had not received enough input from residents of the area surrounding the proposed LCS site.
"Environmental justice means that community residents can participate in decisions that will affect their health," she said. "You, the decision makers, are supposed to identify vulnerable people, make sure people understand the risks, and allow them to influence your decision. You should be hearing from more people, not just the select few eligible to speak to you today."
The board's decision to reject the permit stemmed in part from dissatisfaction with DEQ's outreach efforts, which included multiple notices delivered via local media outlets, email, social media, a virtual meeting, website posts and mail, but did not entail much in-person contact or many direct conversations with residents of the surrounding community.
Additionally, the board did not deem the site of the proposed compressor to be suitable. It is in close proximity to numerous homes and a church.
The board also identified the surrounding community as an environmental justice community, which is defined as a "low-income community or community of color" by the Virginia Environmental Justice Act.
The permit denial is one of several roadblocks the Mountain Valley Pipeline Southgate project has encountered. The North Carolina Department of Environmental Quality's Division of Water Resources (DWR) has denied a request for a 401 Water Quality Certification and Jordan Lake Riparian Buffer Authorization for the project twice.
The Altavista Journal and Chatham Star-Tribune will be providing additional coverage of the board's decision online and in print next week.