Sovah Health - Danville announced Tuesday a project for upgrades to the emergency room made possible by a $12 million investment from owner LifePoint Health to the hospital.
Community members, hospital staff and emergency services staff gathered in front of Sovah Health's emergency room for the announcement, which Alan Larson, Sovah Health market president and CEO of Sovah Health – Danville, said has been years in the making.
"We're excited for this opportunity to build the emergency department into a first class facility to better meet the needs of our growing community and to bring emergency medicine to an even higher level of care," Larson said.
With this investment, the current 14,000 square foot space will be overhauled, and 7,000 more square feet will be added. 
In addition, upgrades would include a better triage space and 31 full-sized rooms. The emergency room currently has 21 rooms and six smaller "fast track rooms." The added rooms, with the continuation of the fast track programs, would allow for the hospital to increase capacity and reduce wait times. A centrally located workstation will allow for clinicians to move easier through the department and allow them to see patient areas at all times.
With more than 20 EMS agencies in the area that transport to Sovah, including Danville City and Pittsylvania and Caswell Counties, there will also be a new ambulance bay to improve access for the vehicles and patients.
This project, according to Sovah Health - Danville Chief Operations Officer John Kent, will not be an easy one, as the hospital will still have to provide care to patients while completing the renovations. Renovations will have to be done in phases to do so. 
One other challenge revolves around the age of the building. The hospital has been in the Danville community since 1884, under several different names and in various locations. It has been in its current location since 1927, and some of the emergency room is in that original building, according to Larson.
For the next six months, hospital leaders will be developing the design for the project, and once construction begins, it is expected to take 24 months. 
Even still, Kent said he "can hardly wait" to have a completed new space for patients to receive care in 2022 or 2023.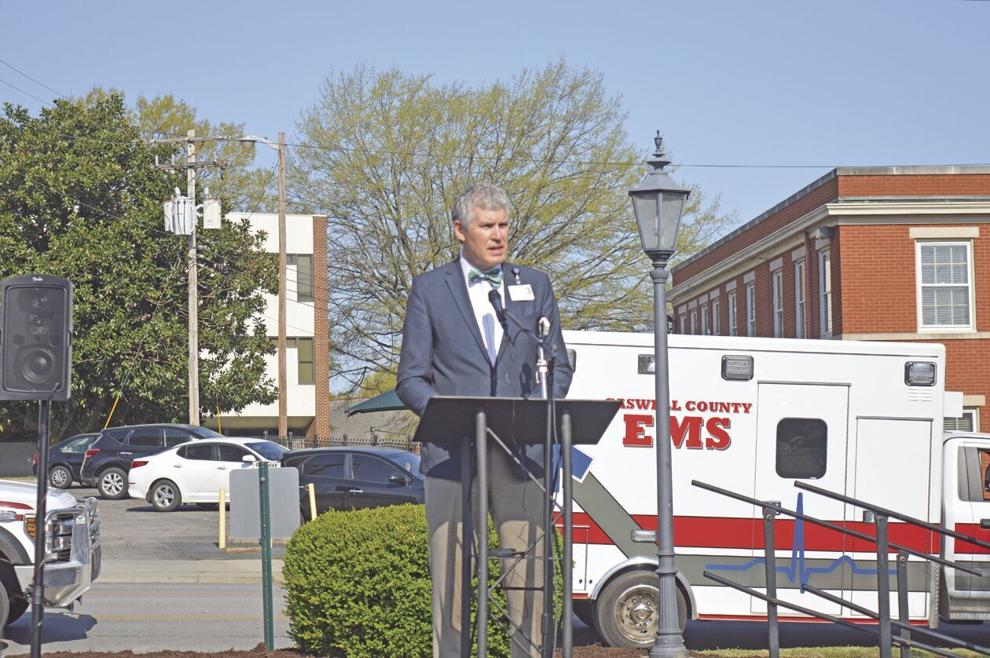 Sovah Health partnered with LifePoint in 2005. Since then, LifePoint has invested $100 million in capital improvements, including this current project.       
Dr. Richard Smith, who has spent 32 years as a physician in the emergency department, said the department's motto is "anyone, anything, anytime," which describes what can come through the department. In 2019, the emergency department in Danville saw 50,000 visitors in the year, which is an average of 130 per day. 
With more than 100,000 people in Danville and the surrounding areas, Smith said it is an honor to serve as a physician in the emergency department.
"I would like to personally thank LifePoint for this project," Smith said. "This is a tremendous addition to our community. The emergency department and the hospital continue to grow, providing the best, most up to date medical care for the people of Danville and surrounding communities."
Danville Mayor Alonzo Jones said the community is "blessed" to have Sovah's emergency care and staff.
"Health issues here don't take nights and weekends off as you all know," Jones said. "Our region's quality care and treatment doesn't either...We are extremely happy and proud of the work you do and the level of skill in our backyard."
For 30 years, Vice Mayor Dr. Gary Miller said he has visited the emergency department 3-4 times per week bringing his cardiac patients, and he expressed that it was time for a change for the department.
"Nurses and physicians in the emergency room have adapted to the changing world of medicine, and unfortunately, the facility has not," Miller said. "...As it's already been mentioned, the emergency room is the front door to our hospital, and it looks like we're going to have a new, up to date entrance soon."
Pittsylvania County Board of Supervisors Chairman Bob Warren expressed the importance of having quality health care for economic development purposes and how it feeds into regional collaboration with the city, county and the several volunteer rescue agencies in the county.
"The hospital and our EMS services work collaboratively to provide emergency service to our citizens," Warren said. "...The Pittsylvania County Emergency Service team has made giant improvements over the last three years. The county has been able to increase their contributions to these volunteer organizations by over 76 percent in the last three years."