"There is nothing there but rubble. A few are trying to scare us into keeping this spot empty forever for no good reason."
---
DANVILLE —  Last year on Election Day, Danville voters decided to say yes to a Rosie's Gaming Emporium by a vote of 5,083 to 4,717.
That's a margin of 51.8% to 48.1% or 3.7%. The campaign going into the vote was pretty quiet and without much controversy.
Rosie's are basically big slot machine centers full to the brim with over a hundred horse slots and a bar.
Now Rosie's didn't break ground in Danville – at least not yet, because in the months that followed a bigger and better opportunity materialized. The State General Assembly passed a bill to expand gambling in Virginia. It will soon enable sports betting through apps throughout the state and on election day will allow several cities in the state to vote on whether or not they want a casino.
Danville is one of them, with what will be the biggest casino property in the state and the region if voters say yes. The casino will be a resort size property and generate 800 jobs during its construction phase and 1,300 afterwards.
This is what it would look like.
But this time there is controversy as there are people saying that if this casino comes Danville will be destroyed.
Let's step back for a second and recount how we got here.
While Republican State Senator Frank Ruff, whose area of representation includes part of Pittsylvania County, chaired the State Assembly General Laws Committee that ultimately crafted the gaming bill and Republican Delegate Danny Marshall helped head a team from Danville that worked tirelessly to get a casino deal for Danville as part of the bill, State Senator William Stanley, whose district consists of Danville, came out against the bill last year, even appearing at a Chamber of Commerce meeting denouncing it, even sneering at it. Stanley used apocalyptic language telling people that a casino will tell the world that "Danville is dying" and that anyone who supports it is "giving up" in his mind, putting down everyone in the room.
Here is a list of some of the businesses in Danville that support the casino.
It's hard to see how someone who gets up every morning to run a business or works as an elected official or in city government tirelessly to attract more businesses to the area is someone "giving" up as that implies some sort laziness when the private and public leaders of this city are anything but that.
Danville City Council Vice-Mayor Dr. Gary Miller when asked to respond to such comments simply said of a new casino, "It would show Danville is growing and it would benefit the economy considerably. I think it's unfortunate that some politicians like to single out Danville because of past misfortunes. We had that problem last fall in the (U.S.) senatorial election when a certain person degraded Danville."
Once the General Assembly passed the new gaming bill, Danville City Council Members and the City Manager gave casino companies several months to come to Danville and present proposals for a new casino. Danville would only be able to make one choice to present to voters, which put the city in an incredible spot in the driver's seat as competing bids meant that it was able to be presented with a resort style casino that would be bigger than any other one in the region.
The city team also negotiated to get Caesar's to pay everyone that would work at the casino at least $15 an hour with most jobs leading to a salary over $35,000. According to 2019 data from the US Census Bureau, 25.6 percent of all Danville residents were living in poverty, and the per capita income was just $22,200. That's roughly $11.28 per hour. $15 an hour is a big difference in pay for many people. Small businesses would benefit, because more people employed with higher wages means more people would have more money to spend.
And this census data is from last year, right now the US economy is in a deep recession so things are even worse at the moment, but with a casino the local economy would start to get better next year with the hundreds of new construction jobs it would bring.
The Caesars property would not just be a slot casino, but what is considered a destination resort. You can look at this study done before Caesar's was chosen to see what a casino means for the area. Most of the money will be generated by people coming from the RDU area and Greensboro. With a Caesar's size resort there literally would be 1,000 – 2,000 visitors in Danville coming from out of town every single day with this property. It's not just gambling, that's why it's called a destination resort that will have a convention center and entertainment room.
The Danville Regional Foundation did a study on what a casino would mean before the Caesar's deal was made. They found that "casino jobs will greatly ​increase the wages ​for workers in jobs that require similar levels of training, such as hotels and restaurants and even draw workers from manufacturing. Existing businesses may need to raise wages to compete for workers." Of course the existing business would also make more profits, because more people would have more disposable income to spend as the study shows that one new casino job would mean 2.7 additional new jobs due to the economic growth they would create. The DRF study on page 30 estimates that a Caesar's style casino would create over 4,200 total new jobs in Danville – a number beyond the 1,300 jobs at Caesar's, because of the growth impact on the overall economy those jobs would create.
One can imagine the fun at Frank's Restaurant for one being packed for lunch every day and the tasty State Line Diner will be flowing every morning with people coming in and out for breakfast with smiles if the casino is passed. And you know that the great Schoolfield Restaurant will end up having to hire some new staff.
Caesar's also is going to have to pay $20 million upfront to the city and taxable income, which is projected to be over $35 million a year, once it is in operation.
To say this would be a game changer for the people living in the city who need jobs or want a better life is not an exaggeration – and it would enable the city itself to do so many things.
People against the casino talk as if it is going to make all of its money from people already in Danville, but the opposite is what will happen. Here is a projection from the study commissioned by the city of where the people spending money at a casino will come from – using their low revenue estimates.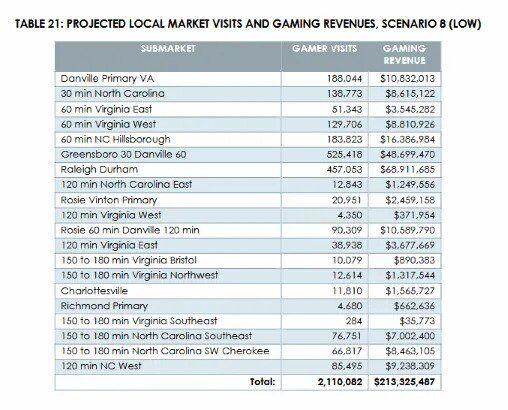 So 91% of the visits to the casino will come from people living outside of the city, with 85% of them living at least an hour away, and 95% of the revenue it generates would also come from people outside of Danville. As far as benefits, the study projects that "a moderate scale casino could still generate substantial revenues($233 million to $280 million in gaming revenues for $275 million to $330 million in total property revenues), create between 1,480 and 1,780 jobs, contribute $2.9 million to $3.5 million in gaming taxes locally, and between $3.1 million and $3.6 million in additional hotel, meal and sales taxes."
The idea that the casino would be a net drain on the city is not reality. It is the complete opposite.
As far as I can tell Senator Stanley is the only elected official against the casino. Now there are others who have popped up against it. One is Eric Stamps, who became politically active after the election of Donald Trump. He created a political action committee against the casino.
Stamps says that he is against the casino, because he doesn't "want to have a predatory company come in and try to extract as many resources as possible and then leave." I don't understand what he is thinking here as there is no reason to think Caesar's would spend all of this money to build a casino and then just leave town.
Another argument that was made by someone who spoke at a city council meeting that if a casino comes property values will go up and there will be more police patrolling the area and supposedly they'll harass people. That seems like a stretch.
The spot where the casino is being built is where Dan River Mills was and no one complained about that sort of thing when the mill was there and thousands of factory workers were coming and going to work twice a day. Perhaps the person who spoke at the city council and Eric Stamps are too young to remember that time or simply don't like the possibility of an additional officer or two being hired on the police force as Stamps has suggested on his website that he is open to not only "defunding" police, but "disbanding" them.
The Church of Christ, run by Johnny Robertson and his son Caleb have come out against the casino in an aggressive campaign described by WSET as "waging war against gambling" in a series called "Studying Sin Seriously." They see campaigning against the casino as a way to link their biblical teachings to current events to reach new people in their ministry. They are one of the few churches that have come out against the casino and the Robertsons told WSET that they feel that most are supporting it.
They are probably right on that. I believe most people in the area want the casino to pass not because they like gambling, but because the benefits it will bring to the area overall far out way the drawbacks. However, another group formed in opposition with an LLC of its own calling itself Defend Danville, led by the pastor at Mount Hermon Church. He basically has focused on the dangers of gambling too, but the Facebook page also started to lash out and attack people without warrant it sees as supporting the casino personally as can be see from one Facebook post.
The post is ugly, but it simply demonstrates how charged this Caesar's vote is compared to the Rosie's vote was last year.
Now Caesar's did form a political action committee to garner support for the vote and there is nothing illegal with getting paid to assist in their efforts. I'm not getting paid. I already voted YES myself, because I think it's simply the best thing to do for the area and want to support what is best.
There simply is no logic to voting no to stop gambling.
You see, Rosies was passed last year. So if Caesars is rejected then the door is open for Rosies to still come with its slot machine emporium. So the real choice is a vote for Rosies or for Caesars. This isn't really a vote on whether or not there will be gambling.

Really when you think about it the argument to stop gambling by voting no on Caesars makes no logical sense, because it won't stop gambling at all. All it will do is make us hurt ourselves by passing up on thousands of new jobs in the city with all that it would entail.
It's so crazy I got to wondering who supports Senator Stanley as the only elected official against it and against interests of the small business people of Danville. I talked with someone who always seems to know what is going on and they told me to go look at something. So I went and checked out his top political donors for 2019-2020 and saw something funny.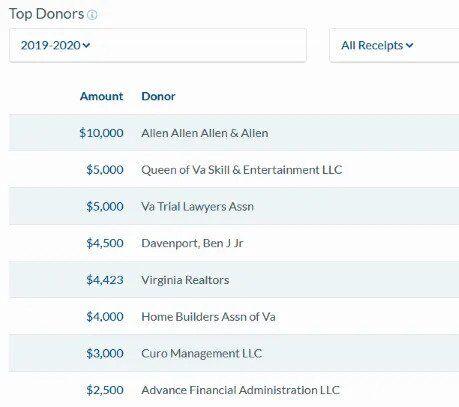 Number two on the list is Queen of VA Skill & Entertainment LLC.
Who are they?
Well they operate all of the slot machine type games you see in the area convenience stores. You know they look like this.
Queen of Virginia Skill & Entertainment, the face of the embattled skill game industry in Virginia, says its games generated almost $7 million in the first month for the state's COVID-19 relief fund and local governments. https://t.co/f3Kw6RvG4z

— NewsAdvance.com (@newsadvance) August 20, 2020
Queen of VA Skill & Entertainment calls these "skill machines," but they look like slot machines to me.
What do you think?
There are probably well over 100 of these machines operating in this area.
Yes, gambling is already happening in Danville and the anti-Caesar's faction says nothing about it.
Look these machines show that if slot machines mean the destruction of Danville it would already be destroyed by the machines already here, but it isn't, because most people don't really care to play them. The vast majority of people that come to Caesars are going to be from out of town while almost all of the people that work there will be people living in the area.
As far as these convenience store machines go there was a move earlier this year in the State Assembly to make these machines illegal, but Senator Stanley presented a bill on their behalf to keep them going and tax them instead to fund Virginia schools. It didn't pass and the governor decided to keep the machines in place for now, because of the drop in tax revenue due to the shut down recession.
Do these people think we are stupid?
A Caesar's casino would benefit everyone living in the city of Danville and every small business would benefit in the rising tide – except one. That's the Queen of VA Skill and Entertainment Company whose machines already here would face competition from a Caesar's casino.
Danville isn't the only city seeing controversy this year over a casino bill. Citizens of Norfolk, Virginia are also voting on whether a casino will be allowed to be built in their city and an anti-casino group also formed in opposition even causing divisions among friends. A group there formed calling itself The Vote No group on Facebook campaigning against a casino.
It turned out that they were getting money from a powerful real estate interest that wanted to block the casino to make their own in a different section of the city. The locals in the group didn't know they were being used as pawns in a game. Someone was preying on their fears of anything new.
Here is why I want the casino.
I moved here in 1989 when I was a kid and at the time Dan River Mills was operating in Danville with a giant plant in Schoolfield, where the casino is to be built.
I went away to college, got a degree in history and came back and got involved in business. But one thing I did was write a book about the history of Danville from the Civil War to the 1950's. Dan River Mills was the driver of that story and at one time Danville was the biggest city between Richmond and Atlanta.
At its peak in World War II the company employed 12,000 people, but even though the textile industry went into a slow decline after the war the mill was still the most important employer in Danville for decades operating as an industry leader. By 1990, it was still employing over 9,000 people, but then it went quickly downhill laying people off almost every year, but even by 2001 it still had 3,100 employees in Danville until it completely shut down and Schoolfield has been empty ever since.
This is what it looks like today.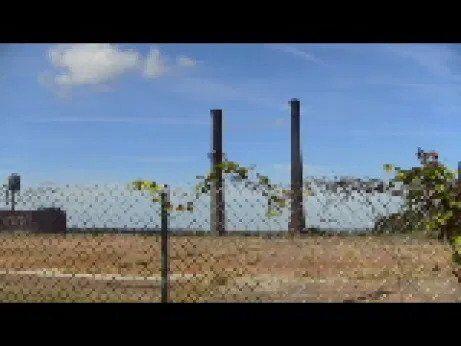 There is nothing there, but rubble.
And because there is nothing there for the past twenty years most of the young people when they graduated from High School have had to move out of town for a better life.
And because there is nothing there the economy in Danville has struggled and crime has been a problem despite the efforts of so many to keep things afloat and bring in new things.
And a few years ago a corner was turned thanks to the efforts of many city leaders despite the fact that there is nothing in this spot yet.
And now finally there is a chance to fill this spot and give Danville not just a symbolic shot in the arm, but a true economic jump start that will enable those in High School now to be able to make the decision to stay after they graduate.
And a few are trying to scare us into keeping this spot empty forever for no good reason.
Do they think we are stupid?
Yes, you can Vote Yes and be a hero.