DANVILLE, Va. — This weekend, music fans in Danville had the unique opportunity to come watch guitarist Jon Herington play at two local venues, 2 Witches Winery and Brewing Company and Crema & Vine.
Best known for his work as a guitarist for classic rock group Steely Dan, Jon Herington traveled to Danville with bassist Dennis Espantman to perform live shows on Friday and Saturday evening.
Bob Bartlett is a longtime friend of Herington and has dreamed for a long time of bringing Herington to play live in Danville. Bartlett and neighbor Mark Precario were the driving force behind making these live shows a reality.
"I met Jon years ago through my neighbor, Bob Bartlett," Precario said.
"Jon Herington has been a friend of mine and an inspiration for almost 50 years," Bartlett said. "In fact, Jon, you played at Valerie's and my wedding almost exactly 36 years ago."
"They've been looking for opportunities to play because after the past year, a lot of musicians haven't been playing at all…So Bob wanted to try to help make this happen," Precario said. "2 Witches and Crema & Vine pay for musicians to play there, but they typically don't have acts like Jon come and play because they're too expensive. So, what we did was cover the additional costs to have Jon come and play."
Herington began his music career as a high school kid who dabbled in songwriting before studying music on a more serious level in college.
Espantman, on the other hand, attributes his big start in music to the culture in his hometown of Garfield, New Jersey.
"We had Eddie Brigati from The Young Rascals…so everybody in my town played or sang because we all thought that was the natural progression of life," Espantman said. "I actually started out as a drummer and became a bass player later on."
Herington has been playing guitar professionally for over 40 years, and he has been playing with Espantman for over 35 years. The duo has co-written many songs and produced four records.
"For a long time, I was relying on multiple income sources, so I would teach a little, I would play any jobs I could, I would do some Broadway show work because I live in New York," Herrington said. "And then, about 21 years ago, I got called to play with Steely Dan, and that was sort of a game changer in terms of the kind of work I was doing and where my income came from because I began to tour, really for the first time, in earnest."
After playing with Steely Dan on the road for the first time in 2000, Herington began touring with the group for about four months out of the year—an entirely different lifestyle from that of working primarily in a single city.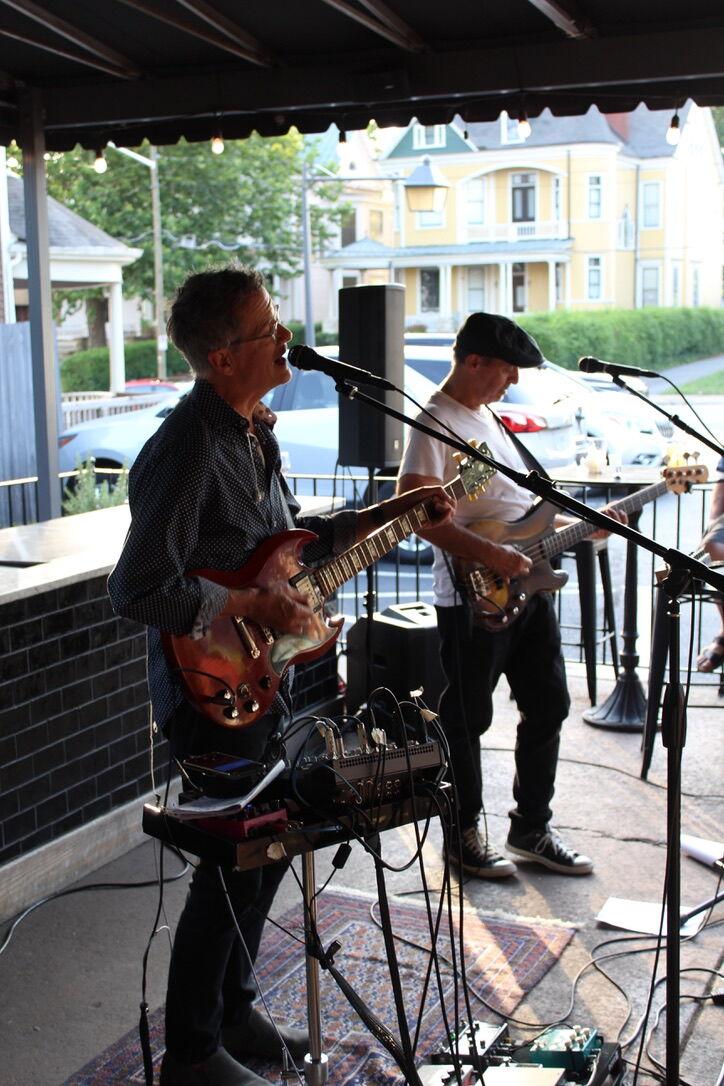 "Because they were a well-known band, that led to other people noticing that I was sort of a working, touring guitarist," Herington said. "It led to work with Boz Scaggs, Bette Midler, Madeleine Peyroux. So all of a sudden, instead of being a freelance musician working day to day in New York at various jobs, I had this sort of project-based kind of employment where I would go out for a couple months with one of these artists and then come back home. Gradually over that 10-year period or so, I found myself doing less and less of the normal in-town work, and I would only work when I was hired to be on the road. So that was kind of a big change."
The recent coronavirus pandemic presented yet another new shift in the artist's career, as Herington spent isolation creating arrangements and leading guitar arranging workshops.
"During the pandemic, because I was stuck at home pretty much every day for a year, I had to change the rhythm of my life," Herington said. "I got into arranging for solo guitar, which was a really apt thing to do. I've always had a sort of private love of a certain style of playing melody and chords on guitar in a jazz style, and my first guitar teacher was a master of that kind of thing. He taught me how to do it, and I fell in love with creating those kinds of arrangements for guitar."
Herington also continued working with Espantman in creating the project they're now presenting on tour, such as the set they played at 2 Witches and Crema & Vine. What used to be a trio, the Jon Herington Band is now reduced to just Herington and Espantman, who play under the new name of The Hypothetical House Band.
"This thing is smaller because Dennis and I were looking for a way to keep our hand in playing music during the pandemic, so we wanted something small and something portable and sort of easy," Herington said. "It led to this idea that we could create tracks to play along with and basically carry the rest of our band around in our phone… it was really interesting to sort of have that long chunk of concentrated time working on one thing because I would never have had that opportunity [otherwise]. That was kind of a silver lining."
Herington commended Bartlett and Precario for making it possible for the duo to come to Danville in the first place.
"Thanks to the generosity of Bob Bartlett and Mark Precario, we're here—they're funding this. It's thanks to their generosity; that's pretty great. It's been a dream of Bob's to bring some project of mine down here. He used to repair my guitars and amplifiers back when I was quite young and he was too…He had this dream of bringing us down [here], and he didn't want to wait anymore, so he and Mark dug in their pockets and decided to make it happen. The cool thing about it is that we're playing in public spaces; it's not a private concert behind closed doors. We're playing in these public spaces which are pretty cool, and Danville gets a little treat."
"I love the way [music] makes me feel, but also, I really love the way it makes the listener feel," Espantman said. "I really appreciate that they sort of get transported. I find that it's kind of my service to transport the listening audience. It's kinda my gig."
"I don't lose my desire for it," Herington said. "Maybe that's one thing I love most about it: there's always so much to strive for. It never feels like the work is really done because every time you play, there are new opportunities and new challenges. It's fresh if you have the right attitude about it; I love that. It also has been a great source of private peace and enjoyment for me, I'd say. There's plenty to worry about in adult life, and for me, music has been a trusty refuge. So I can count on that part of it. It's endlessly interesting, and I can always improve."