Dr. Richard Sherwood has provided a crucial service to the Danville area since 1997. Before the practice he now owns was established, the services he provides were hundreds of miles out of reach.
"There was an oral surgeon who has now passed, who started this practice," Richard said. "His name was Fred Cornett. Fred was well-liked and respected across all of Southern Virginia. In fact, he was the first oral surgeon in this part of the country."
Richard moved from down Washington, D.C., where he once served as a faculty member at MedStar Washington Hospital Center ­– in the same hospital where his son, Colin, was trained.
Colin has worked side-by-side with his father in Danville since July 1. Colin's brother is soon to join the practice as well.
"I'm following in my dad's footsteps in more than one way," Colin said. ""Before starting dental school, I already had my eyes set on following in his footsteps and joining him in practice. It wasn't long after I made that decision that my younger brother Conner, who is in oral surgery residency right now [Iowa], decided that was something he would like to do as well."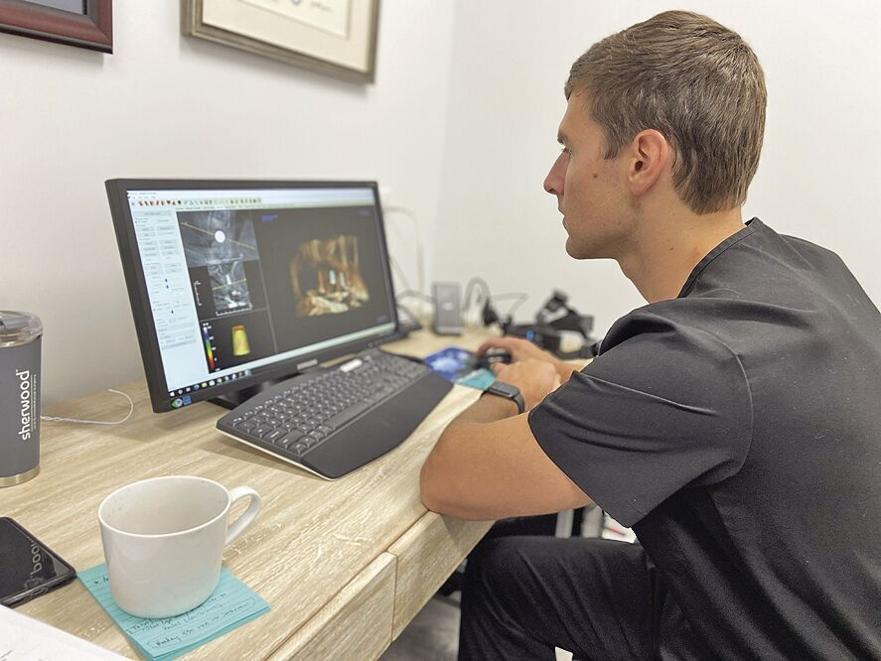 Richard first looked at practicing oral surgery in Danville when the metropolis of D.C. started to weigh down on his family, consisting of his wife and their eight children.
"One of the driving forces of leaving D.C. is that we had just had our fifth child and the dynamics of being in that large metropolitan area wasn't working for us," Richard continued. "We started looking for opportunities in more rural locations."
Richard said he hopes to dispel the common misconception that the quality of healthcare in rural communities is lower than the urban-scape.
"That's not the case," Richard said. "We have a tremendous supply of really well-qualified and dedicated general practitioners in the community, in the area. We're excited to continue to raise the level of care in the community, and I look forward to Colin and Conner supplementing and adjuncting that."
The practice is continuing to grow, especially with Conner on the way soon.
Last February, the practice moved from the Danville Doctors Building at 990 Main St. to their new location on Executive Drive. There are more developments ahead.
"We have also designed this office to be able to do some minor outpatient procedures," Richard added. "The back corner is to be built out to become a small OR, like you'd find at an outpatient surgical center. There is room for us to continue to grow and things for us to do that are going to be very exciting in the upcoming years."
The COVID-19 pandemic has taken the family of surgeons on a roller coaster of ups and downs from a business aspect.
"It has been a bit of a pendulum for us," Richard said. "I have been in practice since 1997. The worst month from a financial standpoint and a patient-flow standpoint that I've ever had was April, after the full impact of the pandemic hit. Then, last month, or the month before, we probably had the best month that the whole practice has ever had, historically speaking."
Father and son take on emergency surgeries every day as well as scheduling non-emergency procedures months in advance. Fortunately, since, April, the business has more than rebounded.
"It's been a real mixed bag, going from the worst month in 22-plus years to the very best month in just the matter of a few months," Richard added. "Charting the future moving forward, it's hard to say."
As for the future, Richard is looking to catch his breath, but has no plans to retire.
"I've told the boys that I'm thinking of slowing down some, but I don't envision retirement happening for several years," he said. "We need to and want to grow the practice. We will continue to increase our business and our service to the community."