PITTSYLVANIA Co., Va. — The Environmental Protection Agency Friday morning announced the official removal of the 13-acre First Piedmont Corporation Rock Quarry Site, in the Beaver Park community of Pittsylvania County, from the National Priorities list for superfund sites.
Superfund law in the U.S. is designed to investigate and clean up sites contaminated with hazardous substances.
Between 1970 and 1972, the First Piedmont Corporation leased the on-site rock quarry and used it as an industrial landfill. The business disposed of 65,000 cubic yards of waste material, including 15,000 gallons of liquid waste, in the quarry. The Virginia State Health Department ordered the landfill to close following a fire. Waste disposal activities contaminated soil and surface water with hazardous chemicals, according to the EPA.
The site was added to the Superfund program's National Priorities List July 21, 1987.
"Deletion is an important milestone for us," EPA Mid-Atlantic Regional Administrator Paul Leonard said Friday morning. "It allows the site to be eligible for potential developers, as the site no longer poses a threat to human health or the environment."
The site's 33-year run as a hazardous waste site has been a long, tedious and treacherous one. While the site was cleared of human health threats by the 1990s, "Other actions were necessary to protect the nearby creek and wetland area," Leonard said.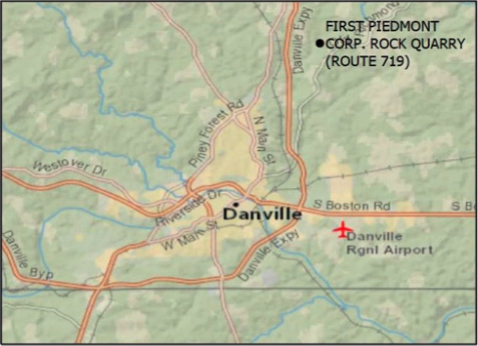 The new goal for the now-contaminant-free site is to reuse and repurpose the land for public use, Virginia Department of Environmental Quality representative Jeff Steers said.
"Our mission is to protect human health and the environment, and to be transparent and communicate with folks as we're doing things," Steers said. "This site has gone through a process of cleanup...over several decades. It's a very complicated process—it takes a very long time. We used to joke that lawyers can make an entire career our of a superfund site."
Steers also said rural areas like Pittsylvania County have a lot to benefit from new economic development opportunities like this one, as compared to urban sites.
"There has been an investment made in this property by all of us," he said. "As we start [to push] it into its next productive phase...we look forward to being involved with local community leaders when that happens."
The site has made significant progress even since 2017.
"As you can see, it looks good," Leonard said as he shared before-and-after photos of the site from 2008, 2017 and 2019.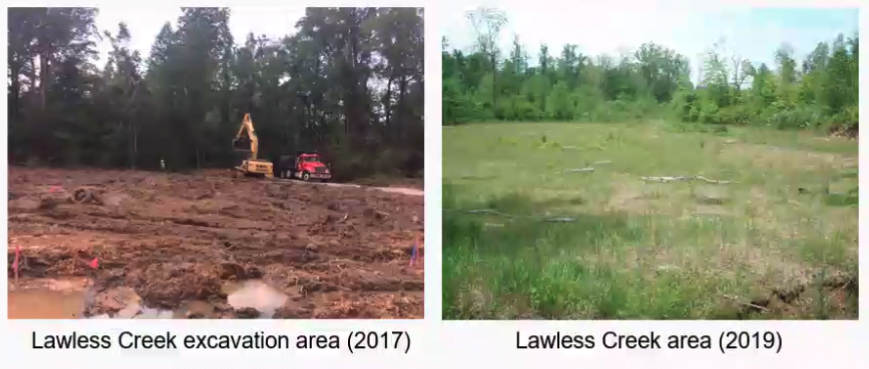 This site will now be perfectly suited for a myriad of economic development projects, which is nothing new to the DEQ, remediation director Chris Evans said.
"The one [previous Superfund site] that comes to mind is the ABEX site in Portsmouth," Evans told the Star-Tribune Friday morning. "ABEX years ago had a primary concern with lead. The EPA removed significant levels of lead in soils in the site and in neighborhoods, in neighboring properties...and excavated in people's yards. There is a portion of that site that is still undeveloped, but on other portions of that site there is a very nice firehouse, a 7-11, and on another piece of that site is a Dollar Tree, Dollar General—that type of store. That is an excellent example how a superfund moves through the process and gets successfully reused."
"With the [Pittsylvania County] site being deleted from the EPA's National Priorities List, this piece of land is now prime for redevelopment," U.S. EPA Press Officer David Sternberg added.
Pittsylvania County Board of Zoning Appeals Chair Ken Talbott recalled a time, back in the 1970s, before the quarry set off this 33-year cleanup process and how it got so bad.
"They weren't willing to make the full investment in wash stations, monitoring all of the explosions, and all these things...they weren't willing to make a full commitment," Talbott told the Star-Tribune Thursday afternoon. "In Virginia, there's only a couple of veins of granite that actually qualify for state road construction, it has to be a certain hardness. Most granite is not, it's real crumbly. So, they wanted to get the hard stuff in this one at White Oak Mountain."
The waste cleanup at the site was prolonged through inadequate means of waste removal, Talbott said.
"Instead of removing the material, they put a clay dome over it, and pumped to clean the groundwater," Talbott said. "When the groundwater started running clean, you know...when they started pumping clean water, they said, 'We're done.'"