CHATHAM, Va. — This weekend, Friday through Sunday, the 1st Virginia Cowboy Mounted Shooters Association came to the Olde Dominion Agricultural Complex to host a CMSA competition.
1st Virginia CMSA President George Lewis has been a member of CMSA for six years and considers mounted shooting "the most fun you can have on a horse."
"It's a timed event, and it's you against the clock and the penalties," Lewis said. "There are ten targets out there, and generally the first five are in a random pattern, called 'the random pattern.' …It's a combination of marksmanship, horsemanship and strategy of how best to run the course with the least amount of steps because you're running against the clock."
Cowboy mounted shooting involves riding a horse that has been trained not to spook when a gun is fired around a pattern of barrels and shoot balloon targets. Riders carry two .45 caliber Long Colt guns, shooting black powder blanks at the balloons to pop them with the sparks.
"We go in, take out our first gun, and we're gonna shoot the first five white balloons," Lewis said. "Then you have to go around the barrel, you switch your guns, you go around the barrel and then you shoot the last five balloons with your other gun…If you miss a balloon, that's a five second penalty, and that's added on to your time. And then we have what we call 'procedural penalties' also. [For example], you have to go around that barrel; if you don't go around that barrel, it'll be a ten second penalty added on. So there are certain courses you have to run a certain way."
In addition to having enough accuracy to shoot as many of the balloons as possible, Lewis identified the most difficult challenge as preparing the horse beforehand. To be ridden in the competition, the horse must be gun-broke—able to remain calm and focused when a gun is fired close by.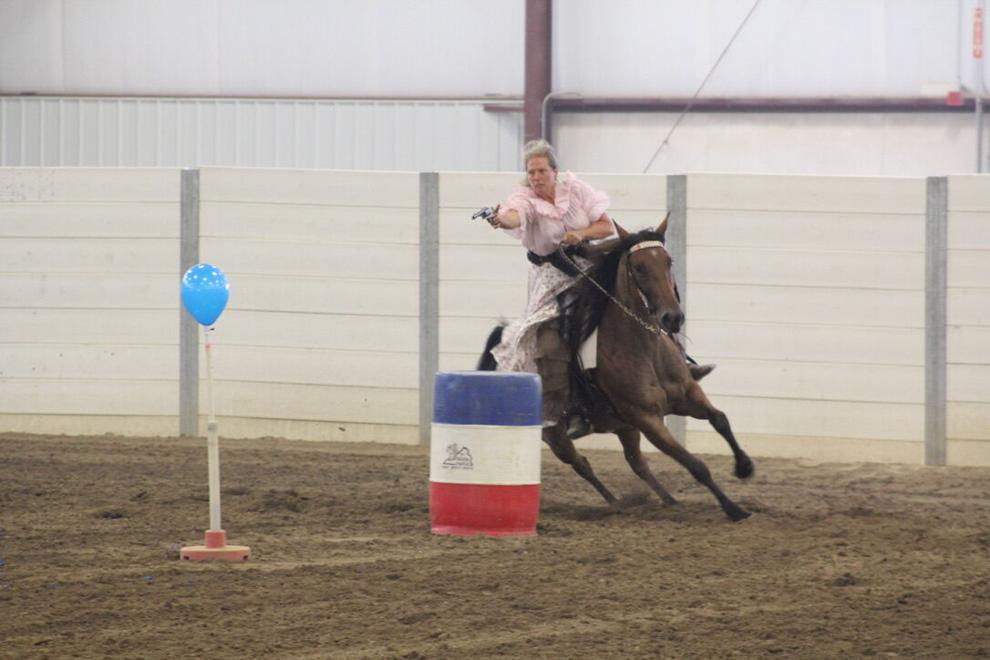 "That's your biggest obstacle—getting the horse gun-broke," Lewis said. "So we do what we call new-shooter clinics, where we help people get their horses gun-broke…Horses feed off each other. You might have a horse that never spooks, but if that horse in front of you spooks, it's going to freak your horse out. So we use that to our advantage when we start gun-breaking horses. What we do [in] a new shooter clinic is surround the new horse with our seasoned horses. We'll go to the other end of the arena, and we'll start shooting, and that horse is reacting off of our horses. And ours are standing there [calm], so that horse will look and [think], 'well they're not reacting; why should I react?'"
Relying on a horse's natural instincts is the key to preparing him or her for the excitement of the contest, as the horse is well prepared beforehand and ready to respond to the rider's commands in the fast-paced competition.
"We'll have them follow us as we shoot (because anything moving away from a horse is not a threat)," Lewis said. "Then, when it comes time for them to actually shoot, we look at each horse individually. If we think [the rider] can go ahead and start shooting off the horse, what we'll do is put their horse on the rail, put a seasoned horse in front of them, a seasoned horse beside them, and let them start shooting off the horse. That does two things: they're feeding off our horses' [actions], and there's nowhere for the horse to bolt."
While there is a significant amount of preparation that goes into preparing each horse for mounted shooting, children as young as 12 years old are allowed to compete against the adult riders. Even children 12 and under can compete in mounted shooter competitions, with ages 10 to 12 using toy guns and addressing each target, while children ages 10 and younger simply run the course and ground shoot between events.
"At 12 years old they start competing with us, and they're the ones that are coming up and kicking all the butts—no fear, young kids have no fear and they rock," Lewis said.
Competitors are divided into classes according to skill and experience level.
"You have to have so many qualified wins before you move on…and you have to have so many people in your class for it to be a qualified win," Lewis said. "As you move up, you have to have more people in your class and you have to have more wins. Anytime you go an entire year without a win, you can move back a stage. So you're always shooting with people around your same level, which is great."
This weekend's event at ODAC saw around 50 competitors, but entries increase depending on the event.
"This is the first time we've shot here, so people kind of want to see what it's like," Lewis said. "At our events, there may be anywhere from 50 to 125 people, like some of the times when we have added prize money…but we don't do it for the money."