RINGGOLD, Va. — The Gretna Hawks' football team ended their season with a tough loss. The Hawks rematched Dan River Thursday night, losing 53-6, one week after losing to them 26-22.
"Dan River played better this week than they did the week before," said head coach Cole Simpson. "And we did not play as well."
After the Wildcats kicked off to Gretna to start the game, Mark Davenport converted a clutch fourth down run.
This set up a 46-yard touchdown run by Charlie Seyfarth, giving his team a 6-0 lead with eight minutes left in the first quarter.
Dan River took a 7-6 lead on their next drive, but the Hawks converted a key fourth down on their ensuing drive by drawing the Wildcats offside.
The Hawks' drive eventually stalled out early in the second quarter.
The Wildcats took advantage of a high snap on the punt, recovering the ball and running it into the end zone on the next play from scrimmage.
After Dan River added another touchdown, this time on a fourth down pass, Hawks' quarterback Haden Moon converted a clutch fourth down of his own in Dan River territory.
The Wildcat defense eventually forced a punt and added another touchdown for a 27-6 halftime lead.
Dan River also scored on a goal line run on their opening drive of the second half.
The Hawks nearly answered, but their run on fourth-and-goal was stopped on the Dan River one-yard line.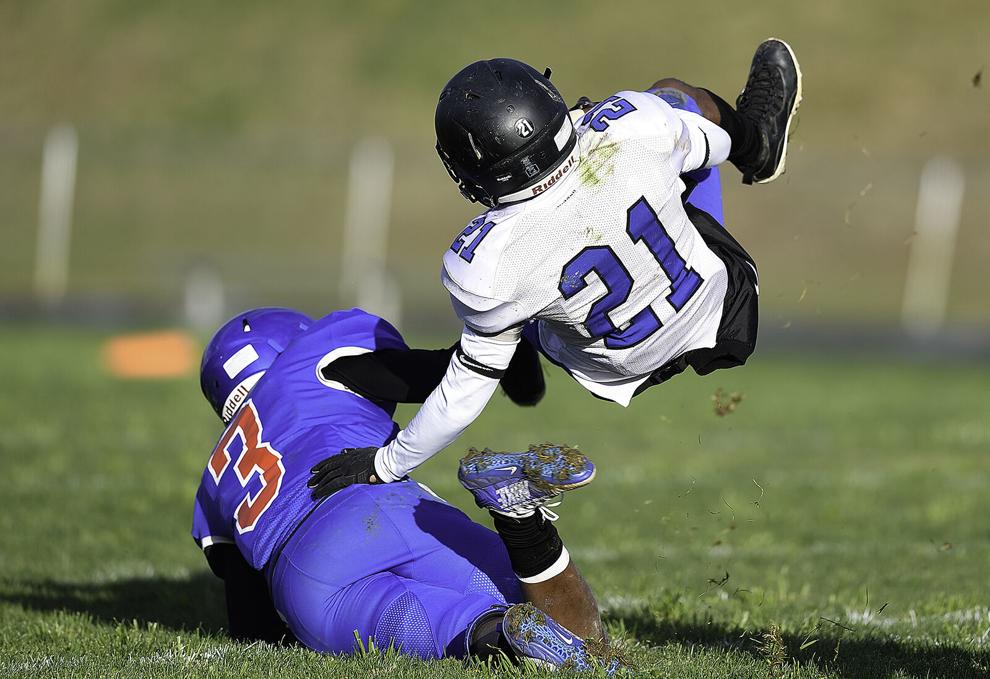 The Wildcats took advantage of the turnover-on-downs with an 86-yard touchdown run, ending the third quarter with a 40-6 lead.
Dan River added two more touchdowns, one running and one passing, ending the scoring late in the fourth.
Cam Mabins had a long kick return to midfield and Matthew Thompson had two long runs, but the clock expired before the Hawks could pull the game closer.
"Their speed was the difference," Simpson said of the Wildcats. "They have fast athletes and we had trouble catching up to them."
Seyfarth finished with 17 carries for 108 yards. Davenport ran 18 times for 65 yards.
Despite their 1-3 record, Simpson took several positives from this shortened season.
"All in all, this spring was a success," he said. "It allowed us to get a lot of kids some experience. We will return almost everybody."
Only three seniors will depart from the team – linebacker Kyle Durham, receiver Jordan Westmoreland, and tight end Auvin Witt.
"Durham is certainly a kid we are going to miss," Simpson said. "He does anything you ask him to do as hard as he can do it.
"Westmoreland is another fantastic kid with a great attitude. Auvin was really good in the locker room. He's a hard worker and an outstanding blocker."
Simpson was also encouraged that his team did not experience an outbreak of COVID-19.
"The mitigation strategies we used are proven to work," he said.
Next year, the team will return 10 of 11 offensive players and eight of 11 on defense.
"Having 18 of 22 returning will be beneficial," Simpson said. "We have a really good group of younger guys with a lot of potential.
"Last year's graduates went 3-7 their freshmen year, then 8-2 the following season and became regional contenders every year. This group is going to be good too."
Dan River was originally scheduled to play Tunstall, but there was a last-minute change of venue due to COVID-19 concerns. Pittsylvania County Schools Superintendent Mark Jones confirmed to reporters that Dan River would be declared county football champions for 2020 and that no further regular season games will be played.