DANVILLE, Va. — Dan River sophomore Asa Fletcher held off an entire flock of Galileo Falcons to take first place at the Greater Danville Metro Cross Country Championship on Wednesday afternoon at Anglers Park in Danville.
Fletcher and Bassett's Sienna Bailey would claim individual Metro championships, while Galileo and Bassett would finish as Metro champions and runner-ups in the boys' and girls' team competition. The Metro championship is another accolade in a stellar calendar year for Asa Fletcher. Fletcher won two Class 2 state titles in outdoor track in June (1600 and 4x400 relay) and has won all but one race this season.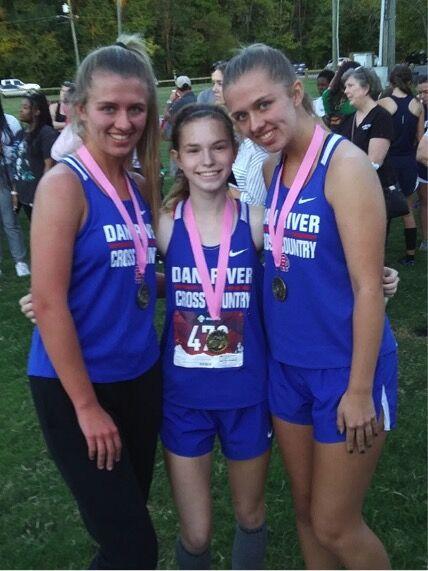 Despite a slower paced first mile dictated by the pack of Galileo runners, Fletcher would prevail in the end as he would cross the finish line of the race at 17:43 – winning by nearly 20 seconds. Galileo's quintet of Jackson Herndon, Dylan Kirk, Cole Harbodin, Alex Gomez-Hernandez, and Jamison Mantooth swept spots 2-6 as the Falcons won the team title with a near-perfect score of 20; Bassett took runner-up honors with a score of 61. Junior Shawn Stork ran a personal best of 19:31 to take seventh place and earn Second Team All-Metro honors.
Dan River would finish in third place with 79 points as a team behind solid performances by junior Brian Rito-Villar (23rd), sophomore Dylan McFalls (24th), and freshman Wesley Maxey (34th). Rounding out the Wildcat runners were Will Evans (36th), Ben Dodson (46th), and Charles Bradley (51st).
In the girls' race, Bassett sophomore Sienna Bailey led from start until finish to claim the girls' individual title. Bailey completed the course in a time of 21:32, besting second place Madison Martin of Appomattox County by 45 seconds. A single point decided the girls' team champions as Galileo edged out Bassett 27 to 28 to claim the girls' first place team trophy. Alyssa McFalls finished in third place at 22:29 and Kathryn Saunders was fifth at 22:49. Both McFalls and Saunders earned All-Metro First Team honors, while Emily Saunders was 14th (24:46) to make the All-Metro Third Team. Jayla Marable (27:01) finished two spots from a medal as she was 17th.